JAKARTA, KOMPAS.com – Indonesian Foreign Minister Retno LP Marsudi has assured Palestine of Indonesia's unwavering support in its fight against Israeli occupation, after Israel delayed plans to annex parts of the West Bank earlier this month.
She also thanked the international community for backing Indonesia's effort to thwart the Israeli move.
"Our efforts [to support Palestine] have been backed by dozens of countries, including China, France, Japan, and Russia, as well as UN Secretary General [Jose Antonio Guterres] and Organisation of Islamic Cooperation Secretary General [Yousef Al-Othaimeen]," she said.
"Indonesian support [for Palestine] is based on a 1945 Constitution passage which state, 'freedom is the inalienable right of all nations, colonialism must be abolished because it is incompatible with humanity and justice'," she told Antara state news agency July 26.
Also read: Indonesia Condemns Israeli Plan to Annex West Bank
But Retno admitted that Indonesia cannot check Israeli annexation of the West Bank and other occupied Palestinian territory without the international community's support.
"The international community's support for the Palestinians is vital because Israel's plan to annex the West Bank was condoned by [US President Donald Trump's] so-called Deal of the Century."
She added that Indonesia condemned both policies because they contravened international law and the Middle East peace plan's Two-State Solution.
Israel has indefinitely delayed its planned annexation of 30 percent of the West Bank, which was due to take place on July 1, 2020 under Trump's Deal of the Century.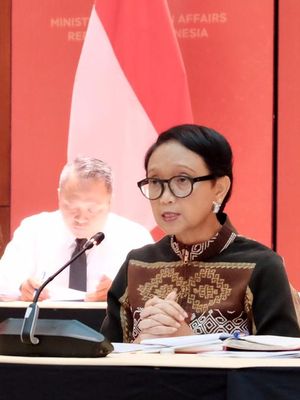 Indonesian Foreign Minister Retno Marsudi during a press briefing at the Indonesian Ministry of Foreign Affairs
Also read: Indonesia Provides Temporary Shelter to 99 Rohingya Refugees in Aceh