JAKARTA, KOMPAS.com – Indonesian Foreign Minister Retno Marsudi maintains her strong stance against Israel, following the country's plan to annex the West Bank.
"I call on other ASEAN countries to take collective action to support Palestinian rights and reject Israel's plan to annex [the West Bank]," said Retno in a video conference with her counterparts from other Southeast Asian countries on Wednesday, June 24.
Also read: Indonesian UN Peacekeeper Dies During Tour in DR Congo
Retno added that the Israeli move violates international law and United Nations resolutions.
"The plans to annex the West Bank will undo the diplomatic efforts to reach a two state solution," she noted.
The minister said Indonesia will continue to support Palestine in its bid for nationhood.
"We will continue our support for Palestine in the form of financial aid to the United Nations Relief and Works Agency [UNRWA] for Palestinian refugees," she said.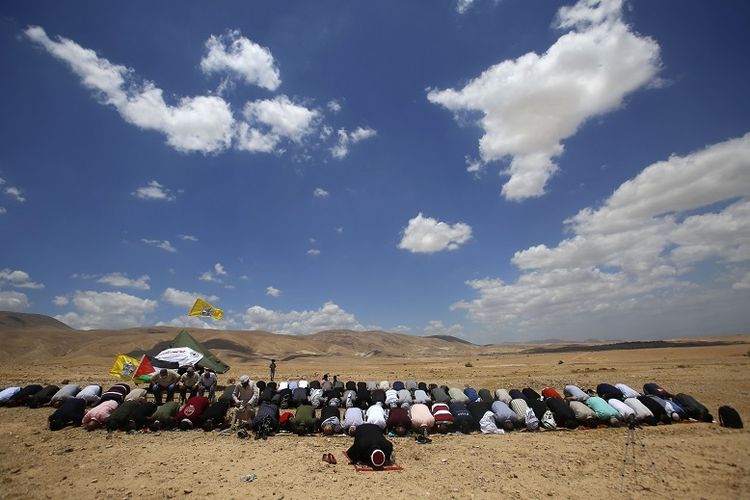 Palestinians protest Israels plan to annex the West Bank
The Indonesian House of Representatives [DPR] is just as strident in its condemnation of Israel.
"We condemn Israel's unilateral plan to annex the West Bank," said DPR Group on Bilateral Cooperation [GKSB] Chairman Syahrul Aidi Maazat.
He added that the group will start off by consulting the Indonesian Ministry of Foreign Affairs and the Palestinian Ambassador to Indonesia on the matter.
Also read: Ministry of Foreign Affair: Indonesian Covid-19 Cases in Saudi Arabia Mostly Migrant Workers
"The GKSB will see the situation in Palestine firsthand and cooperate with the Palestinian parliament," Syahrul said.
"We urge President [Joko Widodo] to closely pay attention to the [Middle East crisis], as [the UUD 1945] Constitution requires us to maintain world peace, uphold human rights and stamp out colonization around the world," he added of the GKSB.
The GKSB is the DPR's liaison with the parliaments of other countries.
Israeli Prime Minister Benjamin Netanyahu and his political rival Benny Gantz have been planning to annex the West Bank. The move have sparked international condemnation, not least from the three million Palestinians who call the West Bank home.
(Writers: Rakhmat Nur Hakim, Haryanti Puspa Sari/Editors: Fabian Januarius Kuwado, Krisiandi)
Sources:
https://nasional.kompas.com/read/2020/06/25/06502651/indonesia-ajak-asean-tolak-rencana-israel-caplok-tepi-barat-palestina?page=all#page2.
https://nasional.kompas.com/read/2020/06/23/21280801/dpr-ri-kecam-rencana-aneksasi-israel-di-tepi-barat.
Dapatkan update berita pilihan dan breaking news setiap hari dari Kompas.com. Mari bergabung di Grup Telegram "Kompas.com News Update", caranya klik link https://t.me/kompascomupdate, kemudian join. Anda harus install aplikasi Telegram terlebih dulu di ponsel.