JAKARTA, KOMPAS.com – Indonesia is set to upgrade its military arsenal as the United States Department of State approved the sale of eight MV-22 Osprey tiltrotor aircraft to Jakarta.
In its press release on Monday, July 6, the State Department's Defense Security Cooperation Agency or DSCA announced that it sold the Block C sales of the MV-22s to Indonesia, due to the latter's standing as an important US partner in the Asia-Pacific Region.
"It is vital to US national interests to assist Indonesia in developing and maintaining a strong and effective self-defense capability," said the DSCA.
"The proposed sale of aircraft and support will enhance Indonesia's humanitarian and disaster relief capabilities and support amphibious operations."
But a former Indonesian Defense Ministry Secretary General, retired Vice Admiral Agus Setiadji, is skeptical.
"The [US] sale of the [MV-22 Osprey] is not a done deal," he said. "The [Indonesian] Defense Ministry's policy to procure spare parts is a lengthy process. It does not happen suddenly." The Indonesian Defense Ministry has yet to comment on the purchase.
Also read: Indonesian UN Peacekeeper Dies During Tour in DR Congo
The DSCA added that the sale, which is worth USD$2 billion or Rp. 28.9 trillion, will enhance cooperation between Indonesian and US forces.
The deal will include equipment and weapons systems such as 20 GAU-21 miniguns, 24 Rolls-Royce engines, and an assortment of radar and countermeasures, among other items.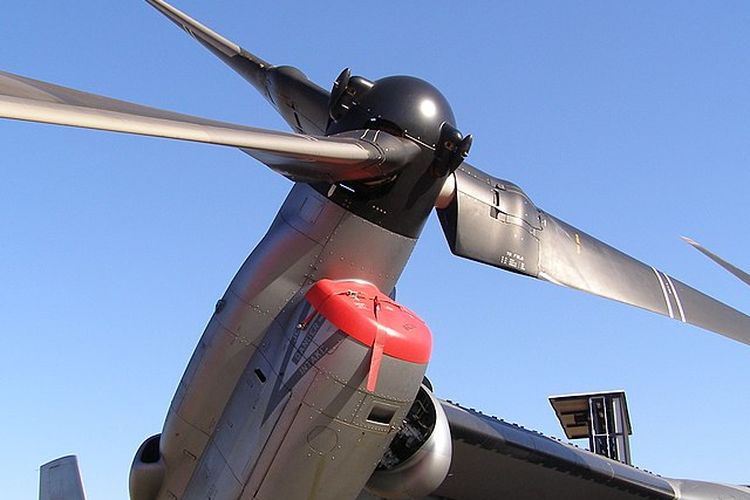 One of the MV-22 Ospreys tilt rotor propellers
Congressional approval
According to the US Defense Cooperation Agency website, the sale of the MV-22s to Indonesia is pending Congressional approval.
Congress must be notified about any significant defense equipment worth more than $14 million within 30 calendar days, before the US executive branch can proceed with the transaction. Congress can still block the deal during that time period.
Bell Textron and The Boeing Company are the main contractors of the sale.
Also read: Indonesian Military Plane Crashes Into Residential Area on Sumatra Island: Village
The MV-22's tiltrotor engines have given it 'hoist and hover capabilities' that enable it to evacuate personnel at sea or in rough terrain alike, as well as transport VIPs there. The CV-22 variant is also able to infiltrate and exfiltrate special forces in various conditions.