KOMPAS.com - Leaders and monarchs from around the world have started arriving at Westminster Abbey for the state funeral service of Queen Elizabeth II. About 400 dignitaries will be attending proceedings.
Meanwhile, tens of thousands of people have traveled to the capital and lined the streets to pay their respects.
Various arms of the military involving thousands of personnel are performing ceremonial functions for a day that has required meticulous planning.
Mourners arrive at Westminster Abbey ahead of state funeral service
Guests have begun to take their seats at Westminster Abbey ahead of Queen Elizabeth II's state funeral service. Dignitaries and world leaders are expected to begin arriving a little later. Heads of state are gathering at a nearby hospital and will then be driven by bus to the abbey.
Also read: Britain's Queen Elizabeth II, Britain's Longest-Serving Monarch, Dies at 96
Westminster Abbey is where the queen was married in 1947 and crowned in 1953.
'We couldn't miss this' – mourners camp along procession route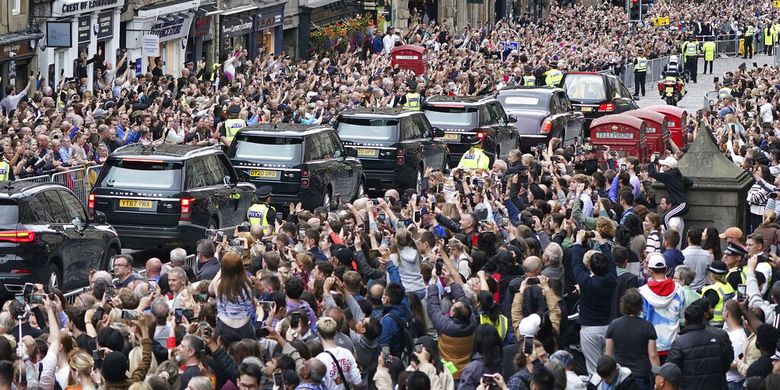 Crowds watch as the hearse carrying the coffin of Queen Elizabeth II, draped with the Royal Standard of Scotland, passes Mercat Cross in Edinburgh, Sunday, Sept. 11, 2022, as it continues its journey to the Palace of Holyroodhouse from Balmoral.
Thousands of people set up camp on the streets of London ahead of the queen's funeral procession. Some brought along tents and sleeping bags, while others slept in camping chairs covered by blankets, while others simply lay on the ground with just jackets and coats for warmth.
"This is a once-in-a-lifetime opportunity to be part of history, to pay your respects," one mourner told Reuters news agency.
Another mourner who had set off in the early hours of the morning said while she had never met the queen, to her it felt like losing a family member.
"It is like we have had a death in the family, we couldn't miss this," she said.
Authorities erected 36 kilometers of barriers in Central London to secure areas around the Houses of Parliament and other key areas including Buckingham Palace. Hundreds of thousands of people are expected to line streets of London. London authorities say all viewing areas along the route of Queen Elizabeth II's funeral procession are full.
What is expected during the memorial event and who will attend?
The queen's lying-in-state at Westminster Hall ended Monday morning shortly after 6:30 a.m local time. At 10:30 a.m. a bearer party will carry the coffin on the State Gun Carriage of the Royal Navy.
The gun carriage will be drawn by 142 members of the Royal Navy through a route lined by the Royal Navy and Marines. The procession will pass by Parliament Square where members of Britain's navy, army and air force will form a Guard of Honor.