BOGOR, KOMPAS.com – Indonesia's President Joko "Jokowi" Widodo emphasized the centrality and unity of ASEAN during the state visit of Philippine President Ferdinand Romualdez Marcos Jr. at the Bogor Presidential Palace near Jakarta on Monday, Sept. 5.
"We also discuss regional cooperation on how to strengthen ASEAN and the implementation of the 'ASEAN Outlook on the Indo-Pacific'. I emphasize the importance of strengthening ASEAN's centrality and unity," State News Antara quoted President Jokowi at a joint press conference at the Lotus Room in the Palace.
The visit by Marcos marked his first overseas trip as a president.
"Indonesia wants to ensure that ASEAN continues to be a locomotive for stability, peace, and prosperity in the region," Jokowi said.
Also read: Philippines Reports First Case of Monkeypox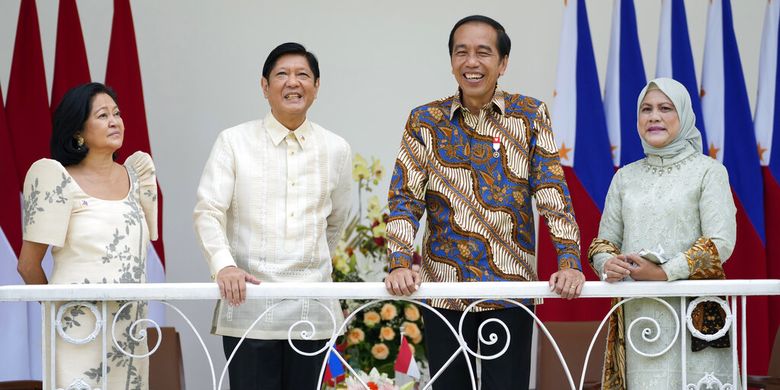 Philippine President Ferdinand Marcos Jr. center left, and his wife Madame Louise Araneta Marcos, left, share a light moment with Indonesian President Joko Widodo, center right, and his wife Iriana during their meeting at the Presidential Palace in Bogor, Indonesia, Monday, Sept, 5, 2022.(AP Photo/Achmad Ibrahim, Pool)
He went on to add that the ASEAN should be able to overcome various challenges ahead and strengthen respect for the ASEAN Charter.
"To strengthen ASEAN's centrality, I underline the importance of implementing the 'ASEAN Outlook on the Indo-Pacific' through concrete and inclusive cooperation. In this context, Indonesia will hold the Indo-Pacific Infrastructure Forum next year," Jokowi said.
He also lauded the Philippines' commitment to fully supporting Indonesia's leadership in the ASEAN in 2023.
The two leaders also held a bilateral meeting and witnessed the exchange of a memorandum of understanding (MoU) between the two countries in the fields of diplomacy, defense, and the creative economy.
Meanwhile, President Marcos said Indonesia was not only considered a neighboring or a friendly country but also a relative.