KOMPAS.com - President Joko "Jokowi" Widodo met with US billionaire Elon Musk at his rocket company SpaceX in Boca Chica, Texas on Saturday, May 14, State News Antara reported.
The President arrived at the Stargate SpaceX Building at around 10:30 a.m. local time and was greeted personally by Musk, who is also Tesla's CEO. Jokowi toured SpaceX's rocket production facility.
Jokowi said in a statement on Sunday, May 15 that the visit was a follow-up to his directives to Coordinating Minister for Maritime Affairs and Investment Luhut Binsar Pandjaitan.
"It is a follow-up to my directives, so we can talk with Musk regarding investment, technology, and innovation [development]. Thus, I am here to meet Must in person to discuss [possible] future cooperation," he said.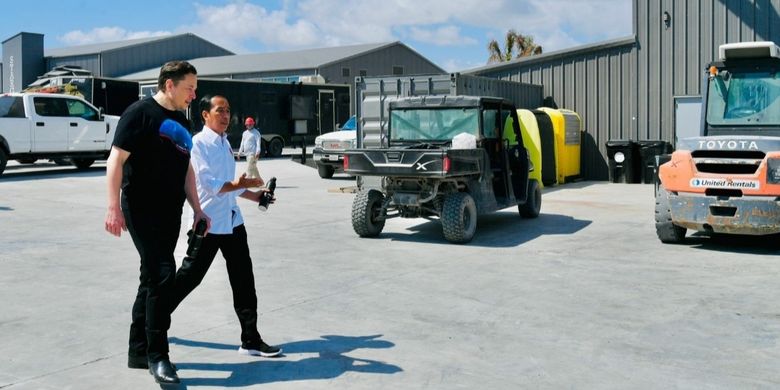 Indonesia's President Joko Widodo (right) meets with SpaceX owner and Tesla's CEO Elon Musk at his rocket company in Boca Chica, Texas on Saturday, May 14, 2022.
Hence, he invited the corporation's founder to visit Indonesia.
"I think he is really interested in coming to Indonesia soon," the President added.
Musk said that hopefully, he could visit Indonesia in November 2022.
"Thank you for the invitation," he said.
Also read: Indonesian Chief Minister Meets Elon Musk at Tesla Headquarters in Texas
He also stated that he was really interested in the future of Indonesia which has various great potential.
"Hence, Tesla and SpaceX will explore some collaborations with Indonesia," the billionaire said.
The large population of the country which continues to grow is one of the most important potentials of Indonesia, according to him.