JAKARTA, KOMPAS.com – Indonesia's President Joko Widodo officially inaugurated a cross-border post in Sota district, Merauke between Indonesia and Papua New Guinea on Sunday, October 3.
This was the eighth integrated cross-border post in Indonesia and the second one in Papua after the cross-border post of Skouw in Jayapura.
The President, who is popularly known as Jokowi, said that the land border crossing was built with complete facilities including commercial buildings, public facilities, staff houses, places of worship, markets, pedestrian lanes, and parking areas.
Jokowi expressed hope that the Sota checkpoint will provide better services to residents crossing the Indonesia-Papua New Guinea border and enhance security in the border town of Sota.
Also read: Armed Criminal Group Attack on Medical Workers, Leaving One Dead in Indonesia's Papua
"This also aims to promote new economic centers and instill in the people a love and pride for our country Indonesia," Jokowi said in a televised message.
He said the border area is the gateway to Indonesia. Therefore, the development of towns in border areas must continue as they represent the progress of the country. The head of state had also ordered the construction of other border crossings throughout the country in the last seven years.
"This new look and most importantly the new and better services reflect our commitment to developing Indonesia in the border areas," said the President.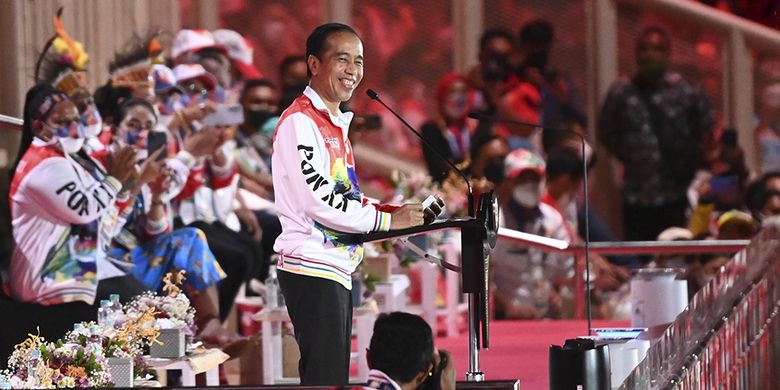 Indonesia's President Joko Widodo delivers his speech during the opening ceremony of the 20th national games (PON) held in the Lukas Enembe Stadium in East Sentani district, Jayapura, Papua on Saturday, October 2, 2021. The national games will run until October 15, 2021.
Also present during the ceremony were House of Representatives Speaker Puan Maharani, Home Affairs Minister Tito Karnavian, and Public Works and Housing Minister Basuki Hadimuljono. The ceremony took place after the President and his officials attended the opening of the 20th national games (PON) in Papua and another infrastructure project in Mopah Airport in Merauke.
Also read: Papua New Guinea Respects Indonesian Sovereignty over Papua