JAKARTA, KOMPAS.com – Both local and foreign companies spend big money on improving their data centers in Indonesia in a bid to create efficient digital infrastructure.
Proper digital infrastructure is now more important than ever before as businesses are heavily relying on the use of digital technology in order to survive.
As the Covid-19 pandemic hit the world, including Indonesia, data centers – buildings that house information technology (IT) equipment and servers – are also needed more than ever before. The data center market is expected to grow significantly driven by a surge in the use of the internet and digital commerce, among others.
The Indonesian Employers Association (Apindo)'s property and economic zone head Sanny Iskandar said that the data center market is a "new normal" that is expected to boom after the Covid-19 pandemic. This is also supported by the development of digitalization in all fields. If a few years ago, a transformation occurred in the transportation sector, food business, and online trade, now is the time for the property sector to see this "new normal" as a promising opportunity.
Sanny said that the need for data centers in Indonesia's industrial areas continues to increase. The transactions are related to data centers for logistics, automotive, and manufacturing needs.
Also read: Indonesia's Tokopedia User Data Hacked, Sold, and Shared on Facebook
This is because the domestic market has enormous potential. The Indonesian society quickly adapts to changes. They are tech-savvy, always want to be at the forefront of change, active internet users.
Therefore, he said, it is not surprising that the US e-commerce giant Amazon invested 35 trillion rupiahs ($2.4 billion) to develop Amazon Web Services (AWS) in three industrial estates in Karawang West Java near Jakarta at once.
"The three areas are close together. However, this is a phenomenon and will become a trend in the future. Data centers are future market needs," he said.
Telkom to build Indonesia's largest data center
Indonesia's state-owned telecoms firm PT Telkom is soon to provide a hyperscale data center (HDC) in the country.
PT Telkom president director Ririek Adriansyah said that the presence of a data center will make the company focus on opportunities to find local, regional, and international tenants.
"The development of Telkom HDC must speed up the digital platform business as an enabler of various ICT [information communication technology] services and solutions for global players and corporations from various sectors," Ririek said.
The sectors comprise finance and banking, public and private sector, manufacturing, content provider, and global cloud provider.
The company's director for Network Information Technology Solution Herlan Wijanarko said that the Telkom HDC will complement the existing data center facility and maintain its position as a market leader.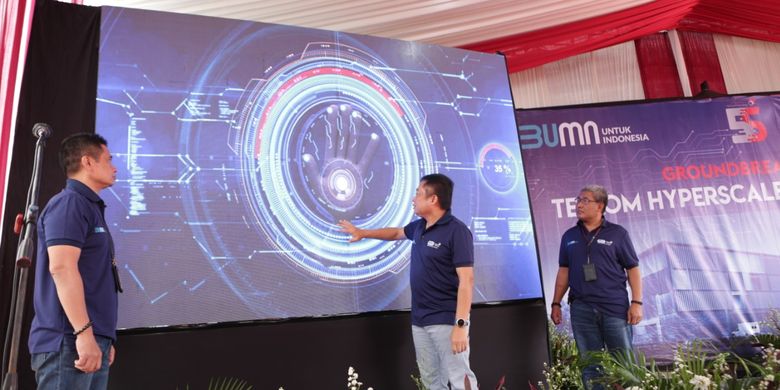 Telkom Indonesia President Director Ririek Adriansyah (center), Network & IT Director Solution Telkom Herlan Wijanarko (right), and Telkom Wholesale & International Service Director Dian Rachmawan during Telkom HyperScale Data Center groundbreaking ceremony in the Bekasi Area on Thursday (7/9/2020).
Currently, PT Telkom has 26 data centers comprising five international data centers, 18 neuCentrIX centers as well as three data centers with tier-3 and tier-4 certification.
With its data centers widely spread out across 12 of Indonesia's biggest cities and is connected to a broadband network, Telkom is certainly reassuring the country of its capability to accommodate the future needs for the digitalization of businesses such as edge computing, 5G services, blockchain, and other digital solutions.
Herlan said that Telkom HyperScale Data Center will be developed on a 65,000 square meters plot of land and has a total capacity of up to 10,000 racks with a total power capacity of around 75 Mega Watt (MW).
Singapore investment
Singapore-based data center operator Princeton Digital Group (PDG) is planning to build its new facility in Indonesia.
The new 22 MW data center worth $150 million, to be named Jakarta Cibitung 2 (JC2), is being built within the same 19,550 square meters campus that houses PDG's existing data center JC1.
This expanded campus of 35 MW is well-poised to serve global cloud companies, domestic internet companies, and enterprises with unmatched scalability, connectivity, and reliability.
The greater Jakarta area is experiencing increasing adoption of cloud-based services, among consumers, businesses, and the government. Indonesia is also home to some of the fastest-growing start-up companies in Southeast Asia.
Also read: Islamic Financial Technology Key to Indonesia's Development
"The Asia Pacific region is set to be the largest data center market in the world, and this announcement underscores our vision to be the market leader in this region," said Rangu Salgame, Chairman and CEO of Princeton Digital Group, in a press statement on Wednesday, August 25.
PDG's growth in Indonesia demonstrates our continued ability to expand rapidly in markets that matter to our customers, the statement added.
The company recently announced an investment of $1 billion to open a 100 MW flagship data center campus in Japan.
Smaller Facilities
In addition to hyperscale data centers, some companies are also developing edge data centers or smaller facilities built near the locations of the end-users.
Kompas.com reported that PT Solusi Sinergi Digital Tbk or Surge is preparing to build edge data centers in train stations and warehouses of village cooperatives (KUD) across Java island.
The first two locations in Manggarai train station in South Jakarta and Cikarang train station in Cikarang, West Java are scheduled to operate this month.
To start, the company has set a target of developing 580 edge data centers until the end of this year.
Also read: 5G Network Technology Will Enter Indonesia Soon, says Senior Minister
The development of data center infrastructure aims to not only accommodate connectivity potential but also the digital economy in industrial estates, commercial buildings, government offices, and neighborhoods.
"The development of data centers is in line with the company's business plan to provide various digital solutions in the media and entertainment fields as well as direct consumers on the daily basis," said Surge CEO Hermansyah Haryono on Thursday, July 1.
As data centers are in high demand, all relevant parties should consider developing a roadmap to address safety, security, economic benefits, and other procedures to support the data center industry in the country.
Sources: https://www.kompas.com/properti/read/2021/08/26/210000721/investor-singapura-akan-bangun-data-center-rp-21-triliun-di-cibitung?page=all#page2.
https://money.kompas.com/read/2021/06/09/213217526/telkom-akan-miliki-data-center-terbesar-di-indonesia?page=all.
https://money.kompas.com/read/2021/07/01/175649426/surge-targetkan-bangun-580-edge-data-center-hingga-akhir-2021.
Dapatkan update berita pilihan dan breaking news setiap hari dari Kompas.com. Mari bergabung di Grup Telegram "Kompas.com News Update", caranya klik link https://t.me/kompascomupdate, kemudian join. Anda harus install aplikasi Telegram terlebih dulu di ponsel.