JAKARTA, KOMPAS.com – Indonesia's Covid-19 Task Force expressed alarm over the surge in Covid-19 cases, as the number of daily cases reached a new high of 8,892 on June 10.
Covid-19 Task Force Spokesman Wiku Adisasmito noted that the number of daily coronavirus cases even surpassed the previous high on February 25 of 8,493 cases.
"This surge in cases is a stern warning for us all to evaluate our methods or what we did wrong," he said on the Presidential Secretariat's YouTube channel Friday. "The increase in cases is also a warning to brace ourselves for an even higher number of cases."
Wiku also expressed his concern over the increased number of cases that occurred less than a month after the Eid al-Fitr or Idul Fitri holidays.
Also read: President Jokowi: No Stockpiling of Covid-19 Vaccines in Indonesia
"Active Covid-19 cases in Indonesia currently stand at 100 thousand, up from 87 thousand. It occurred as the number of Covid-19 cases in six provinces on Java increased over the past ten days," he asserted.
Jakarta experienced the highest surge, as case numbers spiked up to 2,091 with a BOR of 62.13 percent, a 300 percent increase from 591 cases on June 1.
Central Java experienced an 80 percent increase in cases, as the number of cases surged to 1,500 cases with a bed occupancy rate (BOR) of 66.89 percent.
East Java came in third with 425 new cases, with a BOR of 31.57 percent.
In Malang, East Java, National Disaster Mitigation Agency or BNPB head Ganip Warsito has urged the government to pick up its nationwide vaccination drive.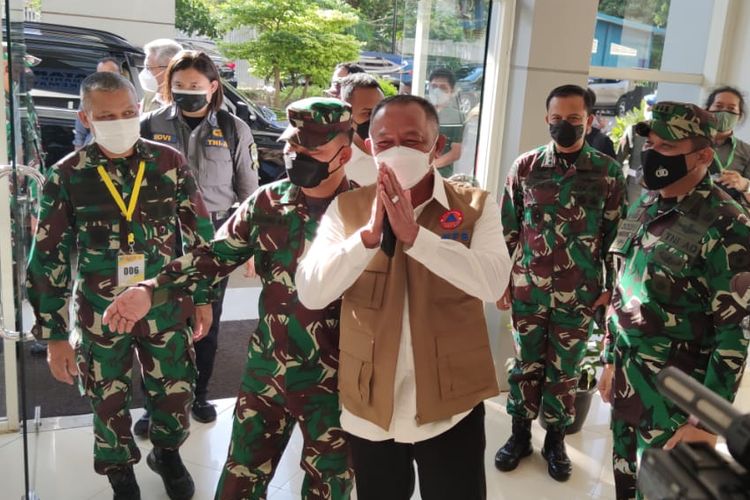 BNPB head Ganip Warsito visits the Covid-19 Emergency Hospital at Wisma Atlet Kemayoran in Central Jakarta, Wednesday (26/5/2021)