JAKARTA, KOMPAS.com – Jakarta aims to be the first Indonesian province to gain herd immunity, as the capital is set to use its AstraZeneca Covid-19 vaccines for persons over the age of 18 before the supplies expire at the end of June.
The Indonesian and US Air Forces are set to hold a joint exercise in Pekanbaru, Riau, to further the capabilities of F-16 fighter jets flown by both forces.
And McDonald's is in the crosshairs of provincial administrations throughout Indonesia, after demand for its BTS meals led to online food delivery drivers milling around its outlets in defiance of health protocols.
This and more on Indonesia Highlights: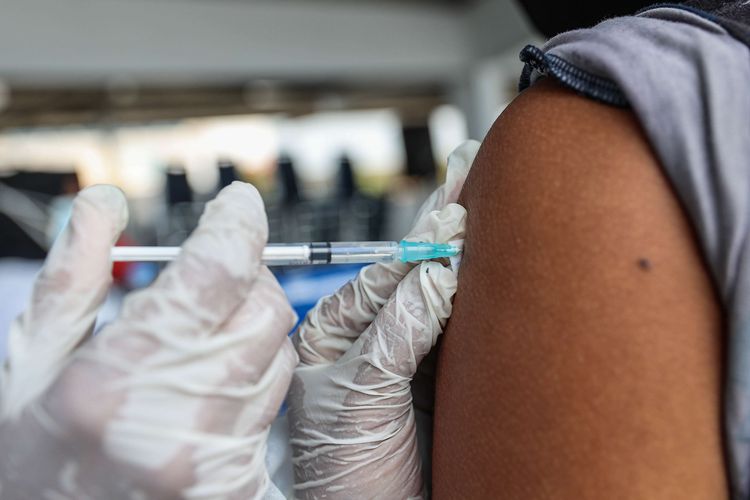 An Indonesian Navy (TNI AL) personnel gets injected with the AstraZeneca vaccine at Jakarta's Tanjung Priok military base on Friday (26/03/2021)
Jakarta to Vaccinate Persons Over the Age of 18 With AstraZeneca's Covid-19 Vaccine
The Indonesian Ministry of Health announced that Jakarta will vaccinate all persons aged 18 and up with the AstraZeneca vaccine starting this Wednesday.
The mass vaccination with the AstraZeneca vaccine is specified for Jakarta residents. The drive will be based on the vaccine's availability," said Indonesian Ministry of Health spokesperson for the Covid-19 Vaccine Siti Nadia Tarmizi.
Jakarta Health Services Department Head for Disease Control and Prevention Dwi Oktavia reiterated Nadia. "The Ministry of Health authorized the vaccine drive with the AstraZeneca vaccine, after the Jakarta Provincial Administration requested the move."
The Ministry said the vaccination drive was caused by a number of factors, such as "the 7.62 percent increase in Covid-19 cases over the past week, which showed that transmission rates in the capital remain high," the document went.
"Another factor was because the Covid-19 vaccinations already reached its third stage which focused on the vulnerable. And third, Jakarta's should lead the way in attaining herd immunity, due to its standing as Indonesia's capital."