KOMPAS.com – The Meteorological, Climatology and Geophysics Agency or BMKG panicked some Indonesian netizens, after an agency study brought up a worst case scenario of East Java getting struck by a major earthquake and tsunami.
The analysis comes less than two months after a 6.1 Richter scale earthquake shook the province last April, killing eight people and injuring dozens of others.
Also read: Earthquake in Indonesia's East Java Province Kills Eight, Injures 25
The BNKG study raised the worst case scenario "that an 8.7 Richter scale [megathrust] earthquake will strike off Trenggalek Regency,," during a webinar on dealing with the effects of earthquakes and tsunamis in East Java on Friday.
"The earthquake will bring about [tsunami] waves as high as 26-29 meters and leave behind inundations of up to 22 meters deep."
A pandora's box of panic
The study found its way to Indonesian netizens, who expressed their panic on social media. They included Tik Tok user Wong Blitar, who is presumably from the East Java city of Blitar.
@cacahoo

pasrah ya Allah... lindungilah semua umatmu di muka bumi ini ????????????##blitar ##ponggok ##fyp?

? original sound - Wong Blitar????????
"I am resigned [to my fate] ya Allah…[please] protect all your creatures on this earth," she captioned to a voiceover of the BMKG report in her account @cacahoo.
Since its posting on Friday, the post has garnered 2.3 million views and received 124,800 likes. It was also forwarded 33,400 times and gotten 7,114 comments.
Others shared Wong Blitar's sentiments. "Ya Allah, I hope [this disaster] will not happen," said fellow netizen user2945508185729, a user of an unknown social media apps.
Another social media denizen identifying herself as Ria Jessica said "[I hope] Pasuruan and the nearby areas, as well as the rest of East Java will be protected by Allah, Amen and best regards from a migrant worker in the Middle East."
Taking precautions
BMKG Earthquake and Tsunami Mitigation head Daryono attempted to ease public concerns. "The public has no need to fear from a tsunami [and earthquake] striking East Java," he said to Kompas.com.
"The worst case scenario was made to design public safety and mitigation measures such as quake-proof schools, installing warning sirens, installing information gathering and tsunami warning equipment, and tracing tsunami prone areas. The information was not made to spread mass panic."
Also read: 6.2 Richter Scale Earthquake Strikes East Java, Other Indonesian Provinces
Nonetheless, Daryono admitted that BMKG, along with other institutions or individuals, does not know when or where natural disasters like earthquakes and tsunamis will strike. He also highlighted the difference between potential and prediction.
"Potential emphasizes on the location and scale of the threat. Prediction is the first two factors as well as when [the natural] disaster will happen," Daryono maintained.
"As for potential, [the tsunami and earthquake] can happen anytime, from the next few years, decades or even hundreds of years. Potential natural disasters can happen in Sumatra, the rest of Java, Bali, and the islands of Lombok and Sumba, not just East Java."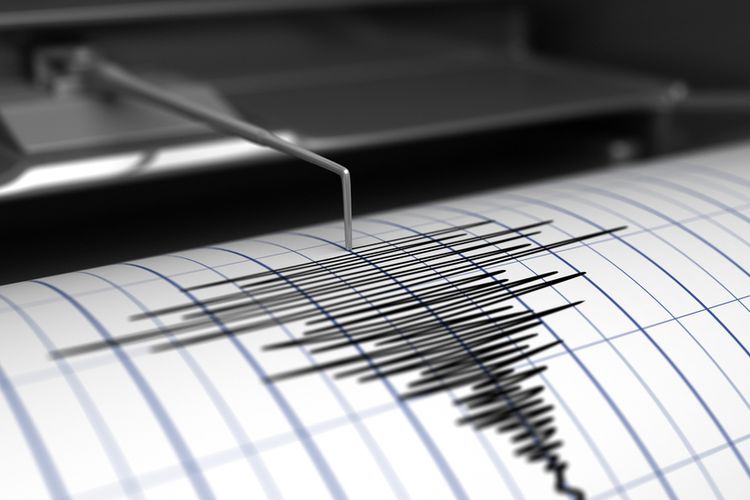 An illustration of an earthquake chart
A dissenting opinion
However, Indonesian Institute of Sciences or LIPI earthquake expert Danny Hilman Natawijaya is skeptical of BMKG's findings. "The BMKG review is not valid academically until they publish their findings," he said.
Danny added that acknowledged the existence of the megathrust plate on the southern, or Indian Ocean coast of Java and Sumatra that is expected to bring about the major earthquake and tsunami.
He pointed out that the recent earthquakes that hit East Java was not caused by the megathrust plates. "I am more concerned about a potential earthquake in [West Sumatra]. The earthquakes there are cause for concern, as the megathrust is located there," Danny said.
Indonesia is located in the Ring of Fire, a part of the Indo-Pacific region that is vulnerable to earthquakes, tsunamis, volcanic eruptions and other natural disasters.
(Writers: Nur Rohmi Aida, Ahmad Naufal Dzulfaroh | Editors: Rizal Setyo Nugroho, Rendika Ferri Kurniawan)
Sources:
https://www.kompas.com/tren/read/2021/06/04/094000465/ramai-potensi-gempa-87-sr-dan-tsunami-29-meter-di-jawa-timur-ini-penjelasan?page=all#page2.
https://www.kompas.com/tren/read/2021/06/04/153000665/ramai-potensi-gempa-dan-tsunami-29-meter-di-jatim-ini-kata-ahli-lipi?page=all#page2.
Dapatkan update berita pilihan dan breaking news setiap hari dari Kompas.com. Mari bergabung di Grup Telegram "Kompas.com News Update", caranya klik link https://t.me/kompascomupdate, kemudian join. Anda harus install aplikasi Telegram terlebih dulu di ponsel.