JAKARTA, KOMPAS.com – Indonesia joined with Brunei Darussalam and Malaysia to make a joint statement comprehensively condemning Israel's escalation of tensions in the Palestinian territories this month.
The government has halted use of an AstraZeneca Covid-19 vaccine batch which was implicated in the death of an Indonesian man who died less than 24 hours after his vaccination from the consignment.
And police in Central Java question a 13 year-old who skippered a boat that capsized in the Kedung Ombo reservoir, resulting in the death of seven people.
This and more on Indonesia Highlights: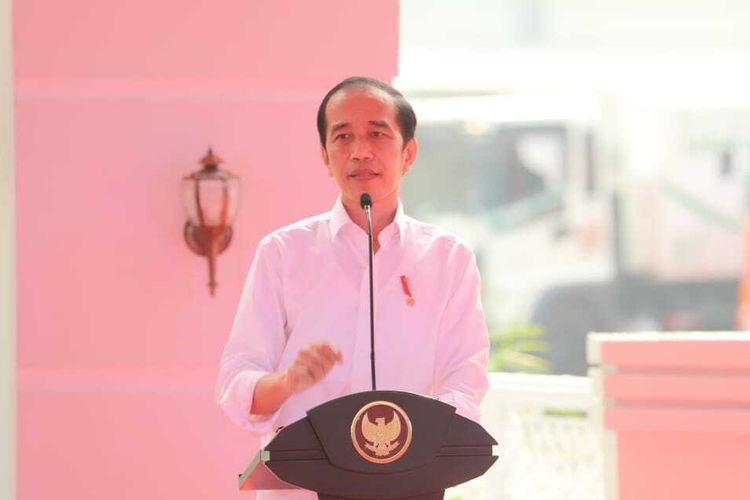 President Joko Widodo officially opens a waste into energy conversion plant in Surabaya, East Java on Thursday (6/5/2021)
Indonesia, Malaysia, and Brunei Strongly Condemn Israeli Aggression Towards Palestine
Indonesian President Joko 'Jokowi' Widodo, Malaysian Prime Minister Muhyiddin Yassin, and Brunei Darussalam's Sultan Hassanal Bolkiah have released a joint statement condemning Israeli aggression towards the Palestinians, as Israel continues its offensive against Hamas.
"We condemn in the strongest term[s] the repeated blatant violations and aggressions, carried out by the Israelis, targeting civilians throughout the Occupied Palestinian Territory, particularly in East Jerusalem and the Gaza Strip," Jokowi said of the joint statement in his Twitter account @jokowi.
"[Israel] has killed, injured and caused suffering to many [Palestinians], including women and children."
The three leaders also conveyed their concerns about the expansion of Jewish settlements in the West Bank, including East Jerusalem, and the destruction of Palestinian structures there.
The three leaders deplored "the flagrant violations of international law…perpetrated by Israel…
through its inhumane, colonial and apartheid policies." They also urged the United Nations to take swift action to decrease tensions in the area, and return to negotiations for a two-state solution.
The current tensions started on May 7, as Israeli police dispersed Palestinians carrying out tarawih prayers during the holy Muslim month of Ramadan. Israeli authorities were also evicting Palestinian residents of the East Jerusalem district of Sheikh Jarrah to make way for Jewish settlements.
https://nasional.kompas.com/read/2021/05/17/05334121/indonesia-malaysia-dan-brunei-darussalam-bersama-sama-kutuk-keras-agresi?page=all#page2.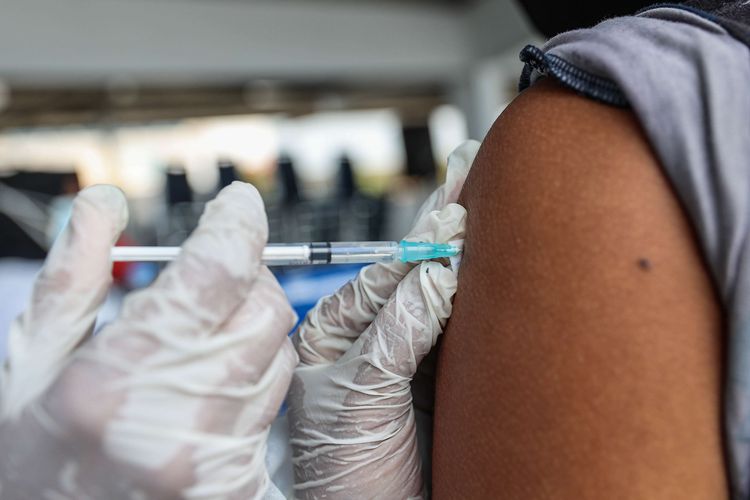 An Indonesian Navy (TNI AL) personnel gets injected with the AstraZeneca vaccine at Jakarta's Tanjung Priok military base on Friday (26/03/2021)
Indonesia Halts Use of an AstraZeneca Covid-19 Vaccine Batch After Death of Vaccine Recipient
Indonesia will temporarily halt the distribution and use of a batch of Covid-19 vaccines manufactured by the AstraZeneca pharmaceutical company, nearly two weeks after the set was implicated in the death of a vaccine recipient earlier this month.
"The Food and Drug Agency [BPOM] will run tests on AstraZeneca batch number CTMAV547, which will take one or two weeks. The move is part of efforts to ensure that the vaccine is safe for use," said Ministry of Health spokesperson Siti Nadia Tarmizi on Sunday.
"The National Commission for Post Immunization Incidents or KIPI's report also recommended the BPOM test, though data on the batch has yet to confirm the recommendation."
Nadia added that KIPI has yet to find evidence of people in Indonesia who died as a result of a Covid-19 vaccination. "In a number of similar incidents, the deceased died from other factors unrelated to the vaccine."
She assured that "the move will not affect other AstraZeneca batches aside from CTMAV547. The other batches are perfectly safe for use, so the public do not need to question their quality."
Nadia asserted that "the use of the AstraZeneca vaccine will continue because they are shown to have substantial benefits."
The 448,480 doses that make up the CTMAV547 Covid-19 batch is part of more than the 3,85 million doses shipped to Indonesia from the Covax Facility/World Health Organization [WHO] on April 26, 2021.
The AstraZeneca vaccine made headlines across Indonesia, after 22 year-old Jakarta resident Trio Fauqi Virdaus died on Thursday, May 6, less than 24 hours after he received the vaccine at Jakarta's Gelora Bung Karno stadium.
Source:
https://go.kompas.com/read/2021/05/17/064846974/indonesia-halts-use-of-an-astrazeneca-covid-19-vaccine-batch-after-death-of.
SAR volunteer teams at Kedung Ombo reservoir in Central Java's Boyolali Regency continue to scour for two people on Sunday (16/5/2021), a day after they went missing when their pleasure boat capsized the day before. The disaster left at least seven people dead
Police in Central Java, Indonesia Question Teenager At Helm of Capsized Boat
The number of deaths from the capsizing of a boat on Kedung Ombo reservoir in Boyolali regency, Central Java has increased to seven people after SAR teams from the military, police and National Search and Rescue Agency [Basarnas] found another body Sunday.
Boyolali Police Precinct chief Police Grand Commissioner Attendant Morry Ermond said the deceased was identified as a 12-year old girl named Desti Parmaswati. "The finding [of Desti's body] means that two people remained missing and unaccounted for," he said.
"SAR teams have deployed 50 divers to search for the missing in depths of 15 to 30 meters. They are also using water drones to find the missing."
Morry added that investigators have also questioned Galih or GH, the skipper of the pleasure boat., who was only 13 years old.
"GH confirmed accounts that the boat capsized before it can reach its destination of a floating restaurant, when a passenger made their way to the bow of the ship to take a selfie. The boat tilted to the right and capsized," he asserted.
Morry noted that the tour operator's use of an underage employee like GH is not their only offense.
"The pleasure boats are made to accommodate 12 people, yet when the vessel capsized it held 20 passengers. The vessel's operators are required to have life vests, which they neglected to use when the incident occurred."
Central Java Governor Ganjar Pranowo also weighed in on the tragedy. "I want the tour operator to account for his actions. Their business permit should be reviewed, and if necessary, revoked," he said, as quoted by the Antara state news agency.
The Central Java Regional Police have closed Kedung Ombo reservoir after the disaster for violating health protocols and to continue their search for the missing.
Source:
https://go.kompas.com/read/2021/05/17/051301474/police-in-central-java-indonesia-question-teenager-at-helm-of-capsized-boat?page=all#page2.
Dapatkan update berita pilihan dan breaking news setiap hari dari Kompas.com. Mari bergabung di Grup Telegram "Kompas.com News Update", caranya klik link https://t.me/kompascomupdate, kemudian join. Anda harus install aplikasi Telegram terlebih dulu di ponsel.