JAKARTA, KOMPAS.com – Indonesia has received more Astrazeneca vaccines, as the country seeks to step up its herd immunity drive. The police also moved to quash misinformation following the government's controversial decision to ban holiday travel.
This and more on Indonesia Highlights: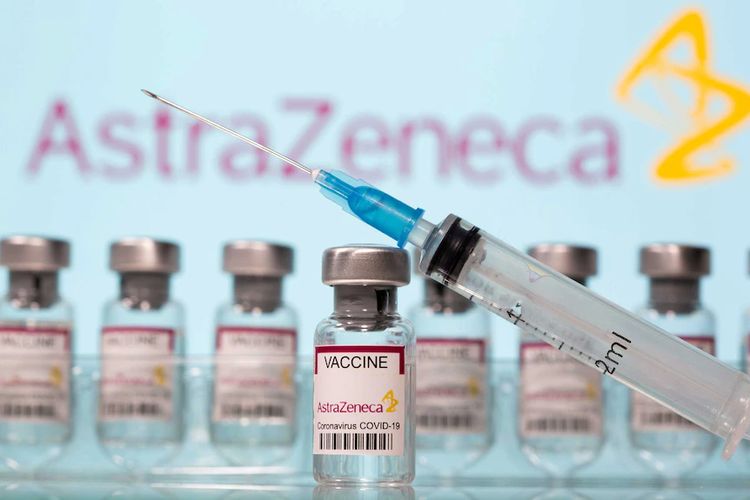 Illustration of the AstraZeneca vaccine.
Indonesia Receives Third Batch of Covid-19 Vaccines From AstraZeneca
Indonesia has received 1,389,600 ready to use vaccines from the AstraZeneca pharmaceutical company at the Soekarno-Hatta International Airport on Saturday.
"The delivery of the vaccines is the third of its kind from the Covax Facility," said Indonesian Minister of Foreign Affairs Retno Marsudi. The latest shipment of vaccines from the British pharmaceutical company has increased the number of AstraZeneca vaccines up to 6.5 million doses.
"To date, Indonesia has secured 75,910,500 doses of the Covid-19 vaccine from the GAVI Covax Facility and other sources. Of this number, 68,500,000 are from Sinovac, 6,410,500 are from AstraZeneca, and another 1 million doses from Sinopharm," she added.
Retno reminded the public to comply with health protocols, due to the increase of confirmed Covid-19 cases around the world.
"A World Health Organization [WHO] report datedMay 2, 2021 noted that the number of global Covid-19 cases over the past week amounted to over 5,7 million cases, more than the first six months of the pandemic," she warned.
"The number of Covid-19 cases around the world has reached over 157 million cases, with 3.2 million deaths, since the coronavirus was detected last year. Southeast Asia experienced the largest surge, with a 19 percent increase in cases over the past week from May 2," Retno asserted.
"The Southeast Asian region, which by WHO standards includes countries like India, Indonesia, Nepal, Bangladesh, Sri Lanka, Thailand, the Maldives, East Timor, Myanmar, dan Bhutan, currently made up 47 percent of global cases within this time period."