JAKARTA, KOMPAS.com – The government has announced that its decision to ban homecoming travel or mudik for the Idul Fitri or Eid al-Fitr holidays will include agglomerations of nearby areas as well as more distant provinces.
Covid-19 Task Force spokesman Wiku Adisasmito said the ban applies to nearby inter-provincial agglomerations such as the Greater Jakarta area encompassing the capital and the satellite cities of Bekasi, Bogor, and Depok in West Java province, as well as Tangerang in Banten province.
"Travel between long-distance provinces or travel in short-distance agglomerations or 'localized travel' are both forbidden. The government never made exceptions for localized travel, since all holiday travel is not allowed," he confirmed to Kompas.com on Friday, May 7.
Wiku added that the government decision is based on a Ministry of Transportation policy stipulating the phasing out of vehicles for holiday travel between May 6 to 17.
Also read: Indonesia Expands Public Activity Restrictions to 30 Provinces
"The restriction of vehicles for holiday travel is simultaneous with restricting the movement of people [during the holiday season]. The only exceptions to be made are for government officials on official business, as well as the activities of essential sectors."
Thrown in confusion
Wiku is aware that ambiguity and confusion still surrounded the government's policy on travel in agglomerated areas like the Greater Jakarta Area. These include how to tell the difference between holiday travelers and commuters.
"[The government's] policy confused us. During our meeting with Minister of Home Affairs [Tito Karnavian], the central government said holiday travel within agglomerated areas are allowed. Then the government confused us by reversing that position," said Tangerang Mayor Arief Wismansyah.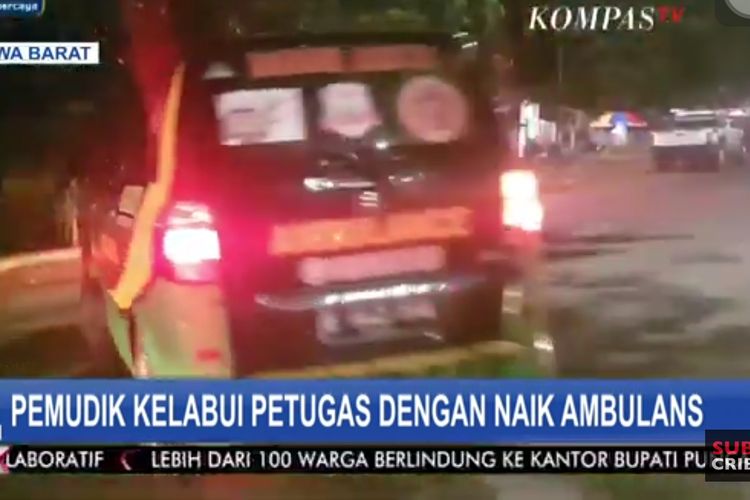 A Kompas TV screenshot of an ambulance stopped in Bekasi, West Java for carrying homebound holiday travelers in Bekasi, West Java Friday (7/5/2021).
The Jakarta Provincial Administration is just as confused with the dilemma of telling the difference between citizens of the Greater Jakarta that need to buy foods, go to work or emergencies with those going to their parents' house for the holidays.