JAKARTA, KOMPAS.com – Customers weary from months of Covid-19 health protocols converged on Tanah Abang, Jakarta's biggest traditional market last weekend to buy gifts and other goods for the Eid-al Fitr or Idul Fitri holidays, which is over a week away.
The sight is more reminiscent to a time before the Covid-19 outbreak, as an estimated to 200 thousand or more shoppers disregarded health protocols such as social distancing or wearing face masks looked for apparel and other items.
The peak of this Indonesian version of the Black Friday shopping event occurred last Sunday, as over 100 thousand people hit Tanah Abang's Blok A and B to shop for their needs.
This number, along with about 85 thousand shoppers who came to Tanah Abang the day before, is nearly three times the average of 35 thousand people who go there on any given day following the Covid-19 pandemic.
Also read: Visitors Flock Southeast Asia's Biggest Textile Center in Jakarta Despite Covid-19
"When I came at 10 am, [the Tanah Abang] market was already full. By the afternoon, it was plain chaotic," said Amir, who came to the market on Sunday for his annual ritual of buying new clothes for Idul Fitri.
The 26-year old recalled how he and one of his siblings were cheek by jowl with other shoppers in the corridors of the market's Blok A and Blok B for about four hours.
"We had to jostle with others to browse clothes. Often we had to fight through crowds to go from one kiosk to another," he added.
An early start
Other customers, among them Farizky, still choose Tanah Abang as their outlet of choice, though they opted to go on Monday when it was less bustling.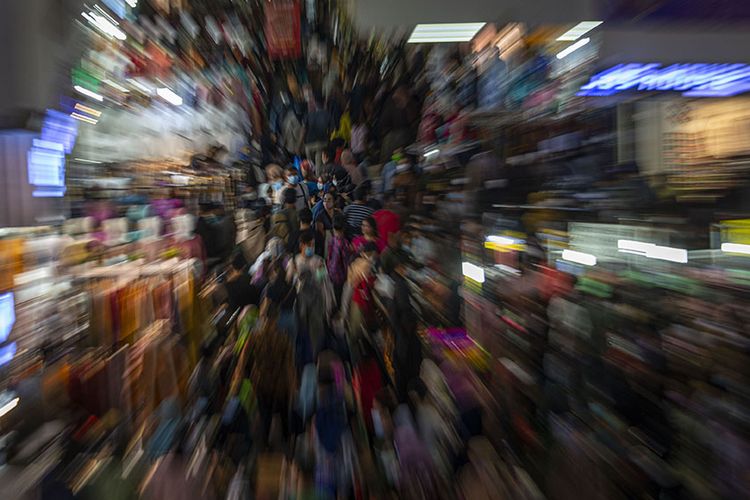 The crush of shoppers at Tanah Abang traditional market's Blok B on Sunday (2/5/2021)
"Shopping [for Idul Fitri outfits] at Tanah Abang market is an annual tradition for my family and I," said the 28-year old, who hails from the Jakarta satellite city of Bogor in West Java province.
"Apparel prices here are more reasonably priced than other [traditional] markets, and there is a wider selection to choose from as well." Farizky added that he even got around the constraints that the authorities imposed on Tanah Abang to prevent people congregating there.
"I came to Jakarta with my sibling and cousin on the commuter train from Bogor since the morning so we can finish shopping in the afternoon, just before [the authorities] suspended train services from Tanah Abang between 3 pm to 7 pm."
Intervention from the authorities
The brisk business at Tanah Abang last weekend market not only attracted more holiday shoppers, it also drew fully armed police and military personnel as well as Jakarta governor Anies Baswedan himself.
Jakarta Governor Anies Baswedan and Jakarta Military Garrison Commander Major General Dudung Abdurrachman (left) survey the situation at Tanah Abang traditional market on Sunday (2/5/2021)
"I urge people who wish to carry out their Idul Fitri holiday shopping at Tanah Abang to consider other shopping centers throughout Jakarta," he said.
"Jakarta has other traditional markets to choose from. Furthermore, doing this will ensure that the number of people in Tanah Abang will be more easily managed, and that [Idul Fitri] holiday shoppers are not concentrated on one place."
Dire warnings
Anies' concerns are shared by President Joko Widodo and others. The head of state warned that there is no space for complacency, particularly after the surge of cases in India.
"Do not be self-satisfied. Do not be overoptimistic and feel that the [Covid-19] crisis is under control," said the president, who is also popularly known as Jokowi, last Sunday on the Presidential Secretariat's YouTube channel.
"Do not feel that the [situation] is safe, because it is not. Not yet!"
Gadjah Mada University or UGM epidemiologist Dr. Riris Andono Ahmad is even more dire in his warnings.
Also read: Tourist Attractions in Covid-19 Medium, High Risk Zones Prohibited From Opening During Idul Fitri Holiday
The Director of the university's Center for Tropical Medical Science drew a parallel of situations like the Tanah Abang market stampede with the Covid-19 surge in India that has seen cases skyrocket to more than 400 thousand on a daily basis.
"There should be no place for large crowds. The 'tsunami' of Covid-19 cases in India originated after 3.5 million people converged for a religious festival," he said.
"[Covid-19] transmission could happen to those who were vaccinated or contracted the coronavirus, but mostly those who experienced neither of these. The more we run into crowds, the more likely we will disregard health protocols, increasing the chances of transmission."
Riris warned that the concentration of crowds like those in Tanah Abang ahead of the Idul Fitri holidays, as well as the government's encouragement to travel after the holidays, will lead to a surge cases similar to those in India.
Tanah Abang traditional market on Monday (3/5/2021).
However, Jokowi and Riris' warnings seemed to fall on deaf ears among people like Amir. While he acknowledged the possibility of Covid-19 transmission among crowds, he is confident that he will stay safe.
"Transmission of Covid-19 can be prevented with the use of hand sanitizer as disinfectant after touching items, as well as wearing masks," he said.
Farizky is also certain that he can avoid Covid-19 transmission. "I am certain I can keep myself safe [from Covid-19], as long as I can wear my mask properly."
A sales windfall
A number of vendors at Tanah Abang also disregarded the officials' warnings.
"The surge of customers last weekend has brought substantially more revenue than Idul Fitri last year, when the market was closed following concerns over Covid-19 transmission," said one vendor who does not wish to be identified.
Also read: South African Covid-19 Strain Found in Bali, Indonesia
"I also made more profits than selling online, which I was forced to resort to when business slowed down since last year." The vendor was just as blasé about health protocols as Amir and Farizky.
"I often see customers drop by without masks to my kiosk and elsewhere in Tanah Abang market. They only wear them when there are security."
(Writers: Tria Sutrisna, Ihsanuddin, Tria Sutrisna, Rosy Dewi Arianti Saptoyo | Editors: Egidius Patnistik, Jessi Carina, Sabrina Asril, Inggried Dwi Wedhaswary)
Sources:
https://megapolitan.kompas.com/read/2021/05/02/20594931/cerita-pengunjung-pasar-tanah-abang-rela-berdesakan-di-tengah-pandemi?page=all.
https://megapolitan.kompas.com/read/2021/05/04/08233451/padat-merayap-di-tengah-pandemi-kenapa-harus-ke-pasar-tanah-abang?page=all.
https://megapolitan.kompas.com/read/2021/05/02/17075061/anies-kami-anjurkan-warga-datangi-pasar-di-jakarta-selain-tanah-abang?page=all#page2.
https://www.kompas.com/tren/read/2021/05/03/190800465/penuh-sesak-di-tanah-abang-kita-diingatkan-apa-yang-terjadi-di-india-?page=all.
Dapatkan update berita pilihan dan breaking news setiap hari dari Kompas.com. Mari bergabung di Grup Telegram "Kompas.com News Update", caranya klik link https://t.me/kompascomupdate, kemudian join. Anda harus install aplikasi Telegram terlebih dulu di ponsel.