PADANG, KOMPAS.com - Sun bear [Helarctos Malayanus] encounters with humans in Sumatra continue to get both species on their toes, as a homeowner and his neighbors in West Sumatra province recorded a video of the species breaking into his kitchen and drink used cooking oil.
The stand off, which occurred at a house in the Jorong Lubuk Selasih district in Solok regency, on Friday evening, April 16, is the third of its kind to occur between both species in Sumatra.
Immortalized by the social media account @infosumbar, the 39-second video shows that the sun bear's 39 second video have gone viral on social media, earning more than 150 thousand views and a variety of comments.
Solok Nature Conservation Agency (BKSDA) head Afrilius confirmed that the report is genuine. "We will go to the locale and verify the incident. I am not surprised, as sun bears are known for their sharp sense of smell," he said to Kompas.com's affiliate Tribunnews.com.
Also read: Animals Gone Wild: Sun Bears Kills Livestock in Indonesia's Lampung Province
"The odor the of used cooking oil might have lured the sun bears and prompted the bears to enter the kitchen and drink the oil".
Afrilius suspected that this is the same bear that has been spotted roaming in residential areas since March 31. "The animal went to houses in the area. He has been seen to enter the kitchens on several occasions, most recently on April 16," he noted.
"The bear is likely drawn by the smell of used cooking oil in the kitchen."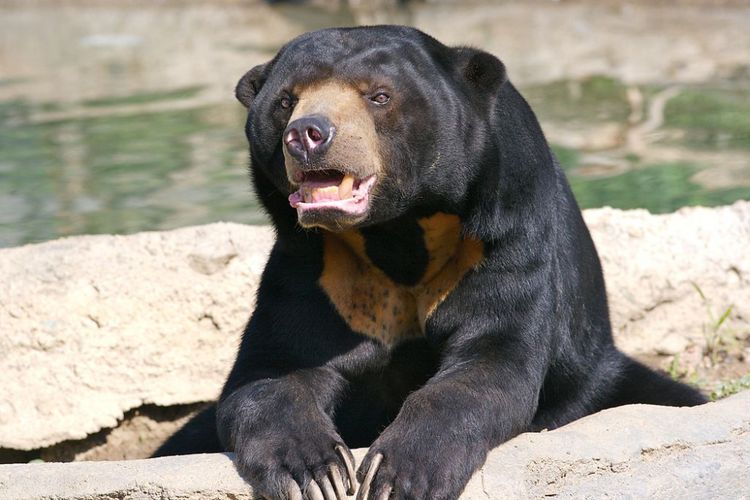 A sun bear
The BKSDA also raised the residents' awareness of the sun bears' behavior to avoid potential conflicts, following recurring reports of the mammals breaking into the kitchens of the houses.
"Resident should seal used cooking oil so that its scent does not attract the sun bears. They should also thoroughly wash pots, pans and other utensils that have traces of the oil," Afrilius warned. "Doing this will minimize the chances of the bears confronting humans."