JAKARTA, KOMPAS.com – The ongoing insurgency in Papua is starting to take its toll on the morale of Indonesian servicemen in the restive province, as an Indonesian soldier deserted to insurgents in the Intan Jaya regency.
Indonesia is taking its first steps towards self-sufficiency in the production of Covid-19 vaccines, as the country's Food and Drugs Agency or BPOM cleared the way for the homegrown Merah Putih vaccine to start production in early 2022.
And the government officially banned the export of lobster seeds, months after Indonesian law enforcers arrested disgraced Minister of Maritime Affairs and Fisheries Edhy Prabowo last November for graft of the commodity. This and more on Indonesia Highlights: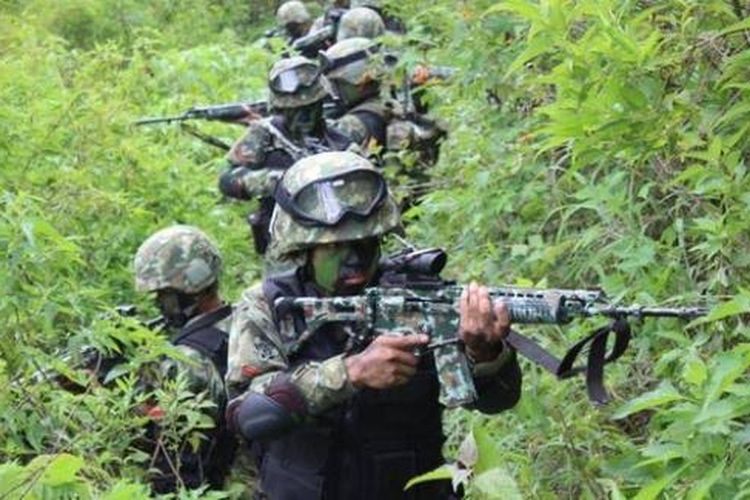 A file photo of Indonesian military (TNI) personnel during a patrol in Sugapa district in Intan Jaya regency, Papua.
Indonesian Soldier in Papua Defects to Insurgents
The Indonesian military confirmed reports that an army serviceman recently defected to insurgents or so-called 'Armed Criminal Groups' [KKB] in Papua.
Indonesian Army operations officer Brigadier General Suswatyo said Private First Class Lucky Y. Matuan or Lukius of the 400th Raider Battalion "joined the insurgents after he went AWOL [absent without leave] during his unit's deployment in Intan Jaya from August 2020 to March 2021."
"We hope that Lukius's defection will not substantially add the KKB's strength," he added. Suswatyo did not specifically disclose the date of Private Lukius' defection.
The one-star general vowed that the military "regards Lukius as a traitor, because he deserted and joined the insurgents in Intan Jaya. The armed forces will take firm action [against Lukius], as he joined the insurgents in taking up arms [against Indonesia]."
Meanwhile, KKB insurgents in Papua's Puncak regency has killed a high school student.
"The deceased, who was identified as 16-year old Ali Mom, was found dead at the village of Uloni in [Puncak Jaya's] Ilaga district on Friday morning," said Police spokesman Grand Police Attendant Iqbal Alqudussy.