NAYPYIDAW, KOMPAS.com – Indonesia and other ASEAN member countries' ambiguous stand on the Myanmar crisis is expected to come to a head, after the chief of the country's military or Tatmadaw, General Min Aung Hlaing, will attend an ASEAN summit in Jakarta next week.
The meeting is the first encounter between Min and other ASEAN leaders, since the junta seized power from democracy icon Aung San Suu Kyi's civilian government last February.
The AFP news agency reported that Thailand's Ministry of Foreign Affairs brought up Min's attendance to the meeting on Saturday, April 17.
Also read: Indonesia's President Jokowi Urges Peaceful End to Myanmar Crisis
"Several [ASEAN] leaders have confirmed their attendance including Myanmar's MAH [Min Aung Hlaing] ," AFP quoted Thailand Ministry of Foreign Affairs Tanee Sangrat as saying of the meeting, which will take place in the Indonesian capital on April 24.
AFP also reported that the summit is part of efforts by ASEAN leaders to maintain communications with the junta.
Reports of Min's attendance occurred, after an anonymous Myanmar official informed AFP that the junta will release over 23 thousand prisoners nationwide. Human rights groups questioned the junta's move, as they feared it is designed to "free up space for military opponents."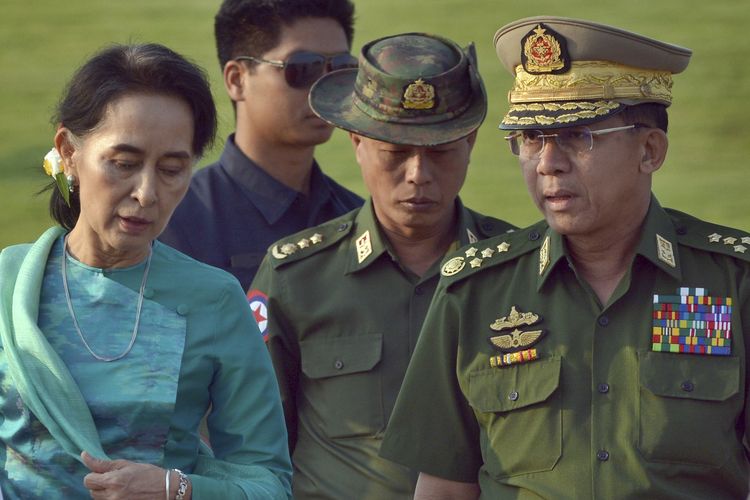 FILE - In this May 6, 2016, file photo, Aung San Suu Kyi, left, Myanmar's foreign minister, walks with senior General Min Aung Hlaing, right, Myanmar military's commander-in-chief, in Naypyitaw, Myanmar. Myanmar military television said Monday, Feb. 1, 2021 that the military was taking control of the country for one year, while reports said many of the country's senior politicians including Suu Kyi had been detained. (AP Photo/Aung Shine Oo, File)
Also read: Indonesia Redoubles Efforts to Resolve the Myanmar Crisis
According to Myanmar's human rights NGO Assistance Association for Political Prisoners, the military junta has killed 720 people and detained up to 3,100 political prisoners as public unrest over the military's actions continued for over the past two months.
The military takeover has divided ASEAN. Indonesia and the Philippines strongly criticizing the junta's actions, while members such as Malaysia and Thailand are more equivocal.
The coup occurred, months after Suu Kyi's National League of Democracy [NLD] political party beat military sponsored parties by a landslide during elections in November 2020. The military rejected the outcome, on grounds that the race was rigged.
(Writer/Editor: Danur Lambang Pristiandaru)
Source:
https://www.kompas.com/global/read/2021/04/17/183417370/pemimpin-junta-militer-myanmar-akan-ke-jakarta-hadiri-pertemuan-asean?page=all#page2.
Dapatkan update berita pilihan dan breaking news setiap hari dari Kompas.com. Mari bergabung di Grup Telegram "Kompas.com News Update", caranya klik link https://t.me/kompascomupdate, kemudian join. Anda harus install aplikasi Telegram terlebih dulu di ponsel.