JAKARTA, KOMPAS.com – President Joko Widodo has ordered aid and other emergency measures for East Nusa Tenggara be sent on the double, as the province continues to reel from the effects of extreme weather that left hundreds of people dead and missing.
The Indonesian National Police has named two officers as suspects in the 'unlawful killing' of four members of the outlawed Islamic Defenders Front [FPI] hardline organization.
And Indonesian National Police chief General Listyo Sigit Prabowo has revoked a police telegram that determines how the media should cover the police force.
This and more on this edition of Indonesia Highlights: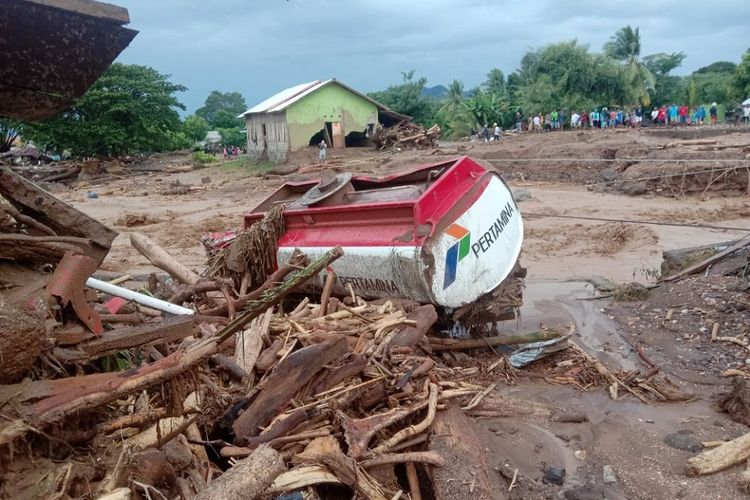 A number of houses and vehicles were damaged by flash floods in Waiburak Village, East Adonara District, East Flores, NTT, Sunday, April 4.
President Jokowi Orders Relief For NTT Province to Be Stepped Up
President Joko 'Jokowi' Widodo has ordered aid to East Nusa Tenggara province [NTT] to be stepped up, as the province continued to reel from flash floods, landslides and other natural disasters from Cyclone Seroja last weekend, which left hundreds dead and missing.
"I have asked Minister of Public Works and Housing or PUPR [Basuki Hadimuljono] to bring heavy machinery to pave a land route to the stricken parts [of NTT]. I also ordered air and sea routes to be prepared, in case land routes could not be penetrated," said Jokowi on Tuesday.
Indonesian military chief Air Force Marshal Hadi Tjahjanto reiterated the president. "I have ordered the navy to deploy the KRI Oswald Siahaan-354, as well as two C-130 Hercules transport aircraft to provide supplies for those stricken by the flash floods in NTT."
The National Agency for Disaster Countermeasures [BNPB] also deployed to NTT following Jokowi's order to send more SAR [Search and Rescue] teams to areas stricken by flash floods and landslides, such as NTT's Lembata and Adonara districts in Flores island.
"The flash floods and landslides killed at least 81 people and left 103 others missing. But this data is liable to change," said BNPB head Doni Monardo.