JAKARTA, KOMPAS.com – The Indonesian National Police [Polri] cracked down on the Jamaah Ansharut Daulah [JAD] terrorist cells, after a suspected militant from the terrorist group and his wife launched a suicide attack on a Catholic cathedral in Makassar, South Sulawesi.
The blast, which occurred on Sunday, killed the suicide bombers and injured 20 people.
The police announced that their Detachment 88 [Densus 88] counterterrorist unit launched simultaneous raids in East Jakarta's Condet district and the West Java regency of Bekasi on Monday, March 29.
"[Densus 88] arrested four suspected terrorists during the operations. They were identified as ZA, AH, AG and BS," said Indonesian National Police chief General Listyo Sigit Prabowo in a press conference televised by the Kompas TV station.
Also read: International Community Condemns Cathedral Bombing in Makassar, Indonesia
"The unit confiscated five active, fused bombs that were ready to use as evidence during the operation. They also found four kilograms of explosive materials, including acetone, hydrogen peroxide, sulphur, black [gun]powder in five jars, and a thermometer."
He added that the suspects planned to use the materials to make detonators and have been given different roles.
"The suspects' tasks included buying [bombmaking] materials, teaching bombmaking, and making the bombs. They also designated one of their members to blow up the bombs."
In plain sight
Local civilians witnessed the Densus 88. "I saw [that the suspect] resisted arrest as [Densus 88] handcuffed and took him away," said eyewitness Sri Anita, a Condet resident. "The [terrorist] suspect run a car showroom business that is integrated with their house."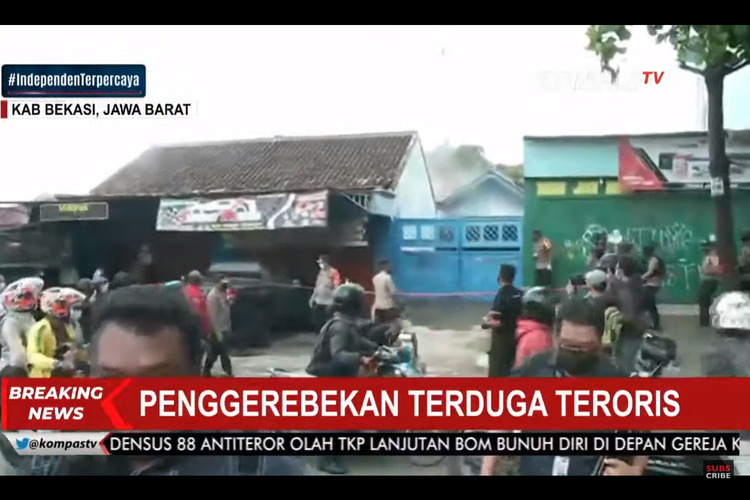 The boarding house in Bekasi regency in West Java, where Densus 88 counterterrorist police nabbed four suspected Jamaah Anshor Daulah [JAD] terrorists on Monday (29/3/2021)