JEMBER, KOMPAS.com – British pharmaceutical company AstraZeneca's Covid-19 vaccine might have won the endorsement of one of Indonesia's main Muslim organizations, the Indonesian Ulama Council or MUI, as the government is set to use the vaccine on the Indonesian public this week.
But for Haji Abdul Muhaimin Fauzi, the head of the Nurul Jadid Al Islami religious school or pesantren in the East Java city Jember's Sukowono district, the authorities' support for the vaccine is not enough.
"I reject the [AstraZeneca] vaccine because it uses swine trypsin in its developmental stages. However, the Sinovac Covid-19 vaccine is OK," said Muhaimin to Kompas.com on Monday.
He noted that the MUI's support of the vaccine despite the alleged use of swine trypsin, or as Muhaimin put it, "allowing what is taboo or haram because of [Indonesia's coronavirus] national emergency," divided opinion among Indonesian Muslims.
Also read: Indonesia to Vaccinate 57,000 Elderly Pilgrims: Health Ministry
"We chose not to get caught up in that debate and determine to do what we think is best. But most of all, I am not inclined to use [the AstraZeneca Covid-19 vaccine.]"
However, the Darul Muqomah pesantren at Jember's Gumukmas district begged to differ. "We agreed to use the AstraZeneca Covid-19 vaccine [in our pesantren], as doing so will accelerate Indonesia's vaccination drive," said Darul Muqomah's headmaster Zainil Ghulam.
"We decided to use the vaccine as it was cleared as halal by both the MUI and the Nahdlatul Ulama [NU] Islamic organizations."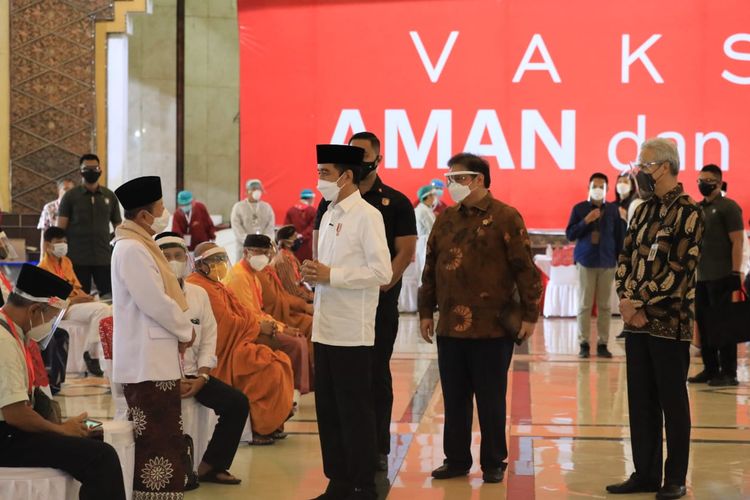 Indonesian President Joko Widodo inspects the vaccination of clerics from various faiths at the Convention Hall of the Masjid Agung (Great Mosque) in Central Java, Wednesday (10/3/2021).
The debate comes after Indonesian President Joko Widodo urged pesantren in East Java to start using the AstraZeneca vaccine in their campuses following a meeting with MUI branch in East Java.
"I have met MUI officials in East Java and other [Muslim] clerics in the province over the AstraZeneca vaccine. They assured he that the vaccine will be used in pesantren throughout East Java," he said during a visit to the city of Sidoarjo to see the vaccinations firsthand.