JAKARTA, KOMPAS.com – Indonesia is the only country in Southeast Asia capable of producing its own submarines, after it launched the first vessel made in the country.
The Indonesian National Police will issue award badges to netizens who lent their aid to the force's Cybercrimes Directorate in their investigation of crimes in cyberspace.
And last but not least, two-time Indonesian Vice President Jusuf Kalla suggested Indonesia's mosques play a more secularized role and open its doors as centers of mass vaccinations. Read on to get more details of these stories on Indonesia Highlights: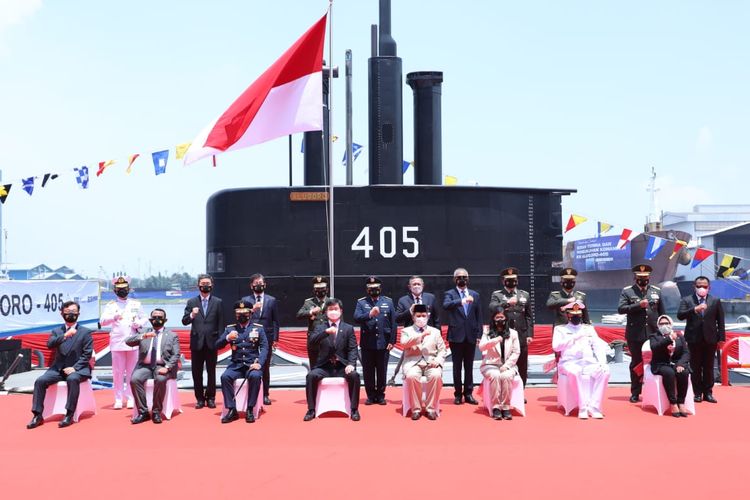 Indonesian Defense Minister Prabowo Subianto and other officials at the launching of the Alugoro-405 submarine in Surabaya, East Java on Wednesday (17/3/2021)
Indonesian Navy Launches First Domestically Built Submarine
Indonesia has taken a major step towards modernization and self-sufficiency in the production of major weapons systems, after the country officially launched the Alugoro-405 submarine in Surabaya, East Java on Wednesday.
Indonesian Defense Minister Prabowo Subianto presided over the launch of the vessel at the Penataran Angkatan Laut [Navy Shipyards] or PT PAL, which built Alugoro-405 in cooperation with South Korean shipping giants Daewoo Shipbuilding and Marine Engineering.
"[The commissioning] of the Alugoro-405 marks a historical milestone [for Indonesia], as it marks the first time that an Indonesian state-owned enterprise like PT PAL succeed in building a submarine for the Indonesian armed forces," said the former four-star general.
Prabowo added the launch marks an awareness to bolster Indonesia's defenses. "The building of the [Alugoro-405] is not a aggrandizement or threat to others. Like our ancestors, it shows that while Indonesia loves peace, we have a greater love for our freedoms," he said.
"Indonesia has to have the strength to safeguard our sovereignty and the integrity of our territory from external threats. Today marks a step forward to build up a stronger military."
The Alugoro-405 will be deployed with the Indonesian Navy's II Fleet [Koarmada II], along with the submarines KRI Nagapasa-403 and the KRI Ardadedali-404, which were built in South Korea for the Indonesian Navy [TNI AL].