JAKARTA, KOMPAS.com – Indonesia has taken a major step towards modernization and self-sufficiency in the production of major weapons systems, after the country officially launched the Alugoro-405 submarine in Surabaya, East Java on Wednesday, March 17.
Indonesian Defense Minister Prabowo Subianto presided over the launch of the vessel at the Penataran Angkatan Laut [Navy Shipyards] or PT PAL, which built Alugoro-405 in cooperation with South Korean shipping giants Daewoo Shipbuilding and Marine Engineering.
"[The commissioning] of the Alugoro-405 marks a historical milestone [for Indonesia], as it marks the first time that an Indonesian state-owned enterprise like PT PAL succeed in building a submarine for the Indonesian armed forces," said the former four-star general.
Also read: Indonesia, US Defense Chiefs Meet in Pentagon
Speaking before Parliament Commission I on defense, intelligence, foreign affairs and information chairperson Mutia Hafid, South Korean Ambassador to Indonesia Park Tae-sung and others, Prabowo added the launch marks an awareness to bolster Indonesia's defenses.
"The building of the [Alugoro-405] is not a aggrandizement or threat to others. Like our ancestors, it shows that while Indonesia loves peace, we have a greater love for our freedoms," he said.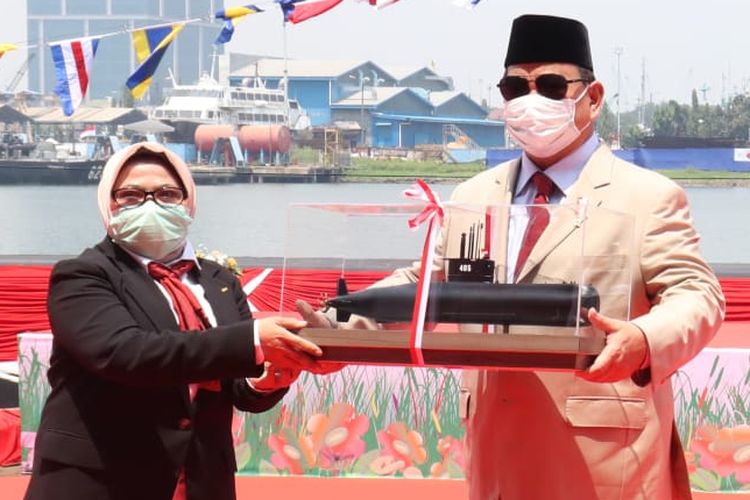 Indonesian Minister of Defense Prabowo Subianto with a model of the Indonesian Navy's new submarine, the Alugoro-405
"Indonesia has to have the strength to safeguard our sovereignty and the integrity of our territory from external threats. Today marks a step forward to build up a stronger military."
Prabowo also urged Indonesia's defense industries to aid in upgrading the country's defense systems, many of which are aging and obsolete.
Also read: US Lifts Entry Ban on Indonesian Defense Minister Prabowo Subianto
The Alugoro-405 will be deployed with the Indonesian Navy's II Fleet [Koarmada II], along with the submarines KRI Nagapasa-403 and the KRI Ardadedali-404, which were built in South Korea for the Indonesian Navy [TNI AL].