JAKARTA, KOMPAS.com – Indonesia's Covid-19 Task Force has urged the Indonesian public not to panic, after news broke that Sinovac's CoronaVac vaccine will expire on March 25.
The eminent professor assured that the government has safeguards in place to ensure the public's safety.
"The government has paid attention to technical details, including the vaccine's expiration date, to ensure the safety of those getting vaccinated," said Wiku on the Presidential Secretariate's YouTube channel Tuesday.
"The authorities will also ensure that the public get quality [vaccines] that are safe and halal." While he confirmed that a number of the Chinese pharmaceutical company's vaccines will expire on March 25, they will not be a factor in Indonesia's current mass vaccination drive.
Also read: WHO Endorses AstraZeneca's Covid-19 Vaccine Following Suspensions
"The vaccines nearing their expiration date were among the three million doses of the Sinovac vaccine that was brought from China in December 2020," Wiku noted.
"The vaccines were used up in the the first wave of vaccinations in the beginning of 2021, among them health workers and government officials, including President Joko Widodo, since last January."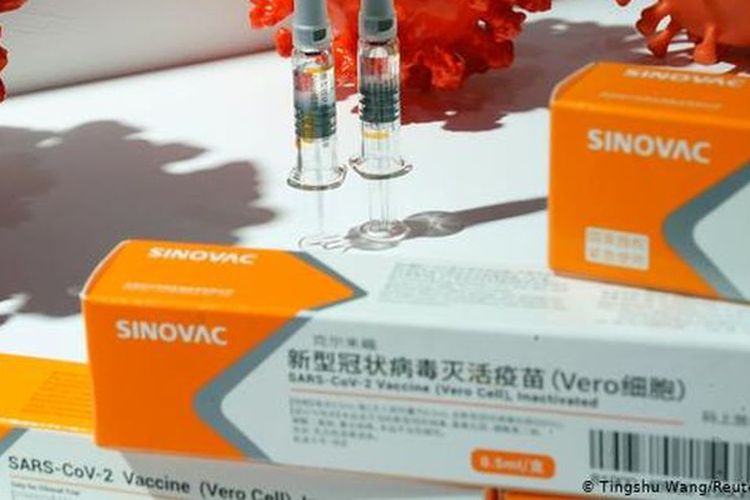 Boxes of Sinovac's Covavax vaccine
He added that the vaccines were used to vaccinate the elderly and civil servants. The spokesman for Bio Farma's vaccine program, Bambang Heryanto announced about the March 25 expiration date for Sinovac's Coronavac vaccine last Saturday.
But he admitted that officials did not realize that the vaccines would expire soon. "The [Covavax] vaccines' packaging said that it will expire in 2023. But their expiration date was moved up six months since by the Food and Drug Agency [BPOM]."
Also read: 36 Percent of Indonesian Muslims Reject the Covid-19 Vaccine
The Indonesian Ministry of Health also eased public concerns. "[The Ministry of Health] will not use expired vaccines to vaccinate the public," said Ministry of Health spokesperson Siti Nadia Tarmizi.
She added that the vaccines were already used up for vaccinations at the beginning of the year.
"The actual number of vaccines that expired on March 25 were 1.2 million doses of Sinovac's CovaVax vaccine. The rest, or 1.8 million doses, expired next May, in accordance with BPOM guidelines to set the expiration date six months from the date of receiving the vaccines."
Indonesia aims to vaccinate 70 percent of its population or 180 million people to gain herd immunity against the Covid-19 pandemic.
(Writers: Fitria Chusna Farisa, Haryanti Puspa Sari | Editors: Dani Prabowo, Icha Rastika)
Sources:
https://nasional.kompas.com/read/2021/03/16/19050361/vaksin-sinovac-disebut-kedaluwarsa-25-maret-masyarakat-diminta-tak-panik.
https://nasional.kompas.com/read/2021/03/16/22072441/kemenkes-jamin-tak-gunakan-vaksin-covid-19-yang-sudah-kedaluwarsa.
Dapatkan update berita pilihan dan breaking news setiap hari dari Kompas.com. Mari bergabung di Grup Telegram "Kompas.com News Update", caranya klik link https://t.me/kompascomupdate, kemudian join. Anda harus install aplikasi Telegram terlebih dulu di ponsel.