mi
MAGELANG, KOMPAS.com - Minister of Tourism and Creative Economy [Menparekraf] Sandiaga Salahuddin Uno has given rave reviews to the homestay lodgings of the Karangrejo Village Economic Center (Balkondes) in Magelang, Central Java, near the Borobudur temple.
"This is probably one of the best homestays I have ever seen with world-class standards," Sandiaga said during his visit to the place on Friday, March 12.
It did not take long to see why he spoke highly of the place. Set in a green, cool valley with a panoramic view of the surrounding mountains and highlands, the homestay boasts some of Magelang's most picturesque scenery and gives the sensation of going back to nature.
Visitors do not come here to stay in or be content with the set activities of a large-scale resort. Instead, they can immerse themselves in nature or enjoy bungalow-style luxury at one of Magelang's many glamping destinations.
Also read: Jakarta to Yogyakarta by Luxury Train, Courtesy of Amanjiwo
Yet this homestay is as much about the 21st century as it is about Borobudur's ambiance and timeless appeal. Sandiaga hailed businesses like the homestay in the region for adopting technology, rendering service providers digitally literate.
The former entrepreneur said an upbeat attitude is needed to revive tourism and the region's creative economy during the Covid-19 pandemic.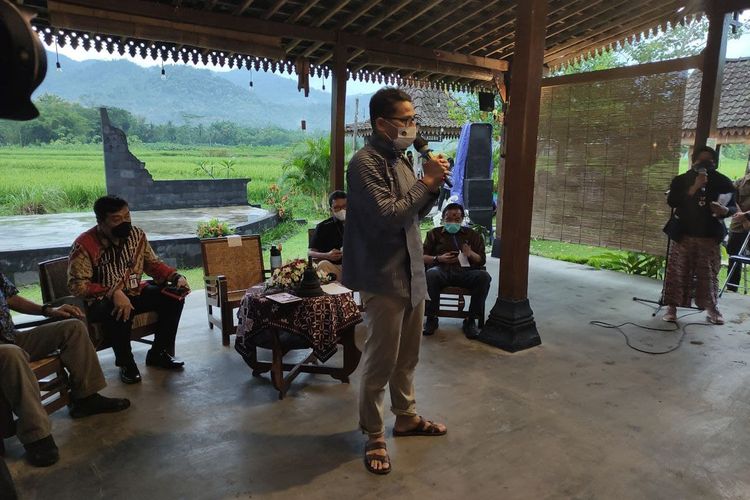 Minister of Tourism and Creative Economy (Menparekraf) Sandiaga Salahuddin Uno at the Village Economic Center (Balkondes) Karangrejo, Borobudur District, Magelang, Central Java, Friday, March 12.
"We should never be pessimistic or give in to pessimism. All parties must generate enthusiasm for one another," he asserted. Sandiaga also gave suggestions on using technology to provide business opportunities.
"Digitization and innovation can lead the way for opportunities or innovation in the creative economy, as does innovation and adapting to health protocols as well as continued collaboration between businesses, educational institutions, and the media," he said.
Sustainable tourist villages like Karangrejo should also "showcase their excellence. Indonesia has an edge in this field due to the country's culture and natural surroundings," he noted.