MATARAM, KOMPAS.com – The Indonesian government's aim to vaccinate 70 percent of the country's population is looking like an uphill climb, after the country's Ministry of Religious Affairs revealed that a substantial part of the country's Muslims continue to resist the measure.
"36 percent of Indonesian [Muslims] still reject the Covid-19 vaccine on religious grounds. Many of them still think the vaccine is haram [taboo], not halal, while other anti-vaxxers reject the measure for no apparent reason," said Religious Affairs Minister Yaqut Cholil Qoumas.
Speaking at the opening of a state run Muslim religious school in Mataram, West Nusa Tenggara [NTB] province Thursday, the former Nahdlatul Ulama [NU] Islamic organization stalwart said this makes "raising public awareness for the vaccination even more important."
Yaqut urged clerics to step up their efforts to persuade their followers to be vaccinated.
Also read: Indonesian Authorities Vaccinates Clerics With the Covid-19 Vaccine at Jakarta's Istiqlal Mosque
"The Majelis Ulama Indonesia [MUI] already issued a fatwa declaring the vaccines as halal. The vaccines have already been tested and proven to meet halal standards, as proven by President Joko Widodo and dozens of [Muslim] clerics," he maintained.
"Those clerics will not allow themselves to be vaccinated, if they have doubts about its halal standing. They realized, as should the public, that the vaccines are needed to protect oneself and others as well as our surroundings [from Covid-19]. "
The NU head for NTB province, Masnun, reiterated Yaqut. "The vaccines have undergone a syahih or valid testing process, so they can provide immunity and meet the standards of the [Islamic] faith" he said.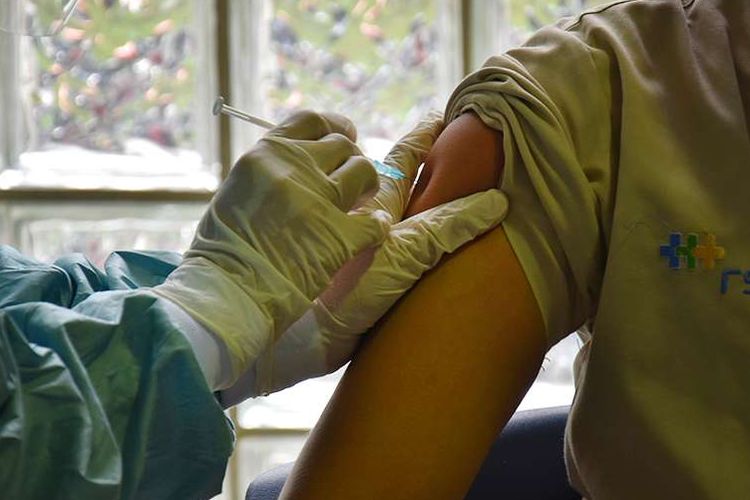 A vaccinator in the city of Bandung, West Java's provincial capital, jabs a health worker in a mass vaccination drive on Wednesday, (3/2/2021)
Also read: Indonesian Government Urged to Step Up Covid-19 Vaccine Drive
"The government stood by this process, as it benefits, not mislead the public."