JAKARTA, KOMPAS.com – The deputy head of the People's Consultative Assembly [MPR] or upper house of Indonesia's parliament has urged the government to step up its Covid-19 vaccine drive, after a recent survey indicated resistance to the vaccine is still widespread.
Lestari Moerdjiat observed that the government's vaccination drive should take "public receptiveness for the Covid-19 vaccine into consideration," after a survey by the Indikator Politik Indonesia [IPI] survey agency showed 41 percent of respondents are still unwilling to be vaccinated.
"The figure of [41 percent] expressing their unwillingess to be vaccinated, as well as the 54.9 percent of respondents who are willing to undergo the procedure, showed the need to make a massive push to raise awareness about the Covid-19 vaccine," she said on Monday.
Also read: Indonesia Drastically Reduces Collective Holiday Leave Days in 2021
"Aside from the government, other stakeholders in the nationwide Covid-19 drive also should take these figures into consideration." She did not specify who the stakeholders were.
"Indonesia needs to vaccinate at least 70 percent of its population, or 182 million people, to achieve herd immunity against Covid-19. The government needs to change its outreach strategy to the public, as the survey figures [of 54 percent] in favor of the vaccine is short of this mark."
Lestari noted that nearly 90 million people, or nearly half of the Indonesian population targeted by the Covid-19 vaccine, rejected the treatment.
"The government should ensure that its vaccine drive is well-managed, including keeping the possibility of side effects in its vaccination of medical workers and civil servants to a minimum," she pointed out.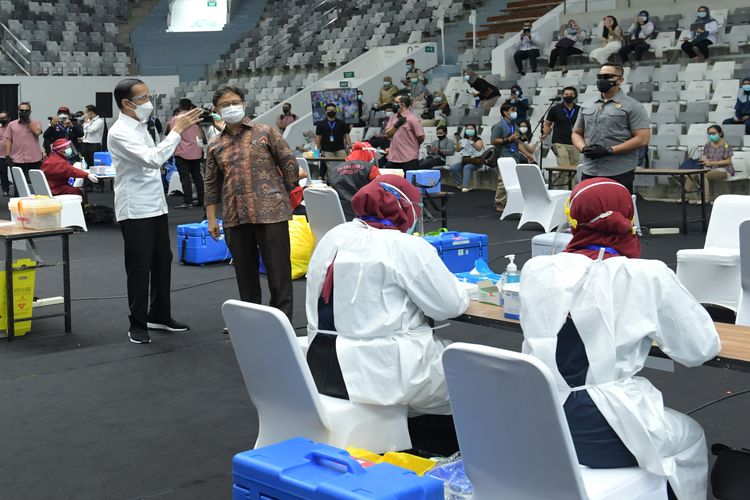 Presiden Joko Widodo (left) and Minister of Health Budi Gunadi Sadikin (middle) survey the mass vaccination of health workers with Sinovac's Coronavac vaccine at Jakarta's Istora Senayan Stadium on Thursday, February 4.
Also read: Indonesia Readies 18 Million Covid-19 Vaccines for Second Mass Vaccination
"A successful [vaccine drive] will hopefully encourage the public to comply with the vaccination drive, and increase the number of people willing to be vaccinated to meet the government's target [of 70 percent]."
Lestari also called on medical authorities carrying out the vaccinations to maintain discipline in carrying out the procedure, to increase the number of people willing to be vaccinated over time.
"Discipline in carrying out the vaccinations should be carried out along with health protocols," she asserted. "These include wearing masks, washing one's hands, practicing social distancing and avoiding crowds, as well as reducing mobility and interpersonal interaction."
The Indonesian government acquired a number of Covid-19 vaccines from a range of pharmaceutical companies, such as Sinovac, AstraZeneca and Novavax, to help the country achieve herd immunity against the coronavirus before 2022.
(Writer: Nicholas Ryan Aditya | Editor : Krisiandi)
Source:
https://nasional.kompas.com/read/2021/02/22/23110471/masih-ada-penolakan-vaksinasi-covid-19-pemerintah-diminta-lakukan?page=all#page2.
Dapatkan update berita pilihan dan breaking news setiap hari dari Kompas.com. Mari bergabung di Grup Telegram "Kompas.com News Update", caranya klik link https://t.me/kompascomupdate, kemudian join. Anda harus install aplikasi Telegram terlebih dulu di ponsel.