KOMPAS.com - The World Health Organization (WHO) on Friday approved Johnson & Johnson's COVID-19 vaccine for emergency use, while also firmly endorsing AstraZeneca's COVID-19 vaccine as some countries continued to suspend its use.
WHO spokeswoman Margaret Harris described AstraZeneca's vaccine at a virtual briefing hosted in Geneva as "excellent" and said that "we should continue" to use the vaccine.
The WHO endorsement came as Thailand followed an increasing number of European countries in suspending AstraZeneca's use because of periodic blood clots among recipients.
Bulgaria and the Democratic Republic of the Congo also suspended AstraZeneca use Friday. However, AstraZeneca said in response to the claims that there was "no evidence of an increased risk."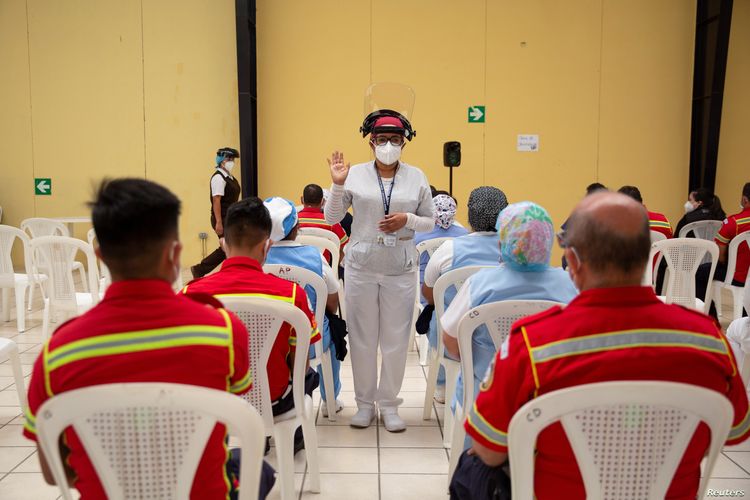 Health workers and fireman sit under observation after receiving doses of the Oxford-AstraZeneca coronavirus vaccine, in Guatemala City, Guatemala, March 10, 2021
The European Medicines Agency, a European Union body that supervises medical products, said in a statement that the AstraZeneca vaccine's "benefits continue to outweigh its risks and the vaccine can continue to be administered while investigation of cases of thromboembolic events is ongoing."
Thromboembolic events occur when a blood clot breaks loose and travels through the body, causing harm.
Also read: Indonesia Highlights: Indonesia to Monitor the Suspension of the AstraZeneca Vaccine in Other Countries | Rebellious Democrat Party Members Report AHY to the Police | Secular and Religious Authorities in Banten Province Crack Down on Pre-Islamic Ritual Bath
The WHO had already approved the AstraZeneca vaccine for global emergency use and on Friday broadened global access to inoculations by approving Johnson & Johnson's vaccine, the first to be administered in a single injection instead of two. The WHO also previously backed the vaccine by Pfizer-BioNTech, making for a total of three vaccine approvals.
"Every new, safe and effective tool against COVID-19 is another step closer to controlling the pandemic," WHO Director-General Tedros Adhanom Ghebreyesus said in a statement.
In another development Friday, Brazil reported 2,216 COVID-19 deaths in the last 24 hours, the third day in a row that fatalities in the country exceeded 2,000. The stretch of deaths is the worst in Brazil since the pandemic began last year.