Aside from showing his games live on Twitch and YouTube, the Grand Master ranked Levy's handle GothamChess has more than 346 thousand followers on Twitch and over 19 thousand followers on Chess.com.
Dadang Subur aka Dewa_Kipas on Chess.com. Dadang caused an online stir after beating Chess.com Grand Master Levy Rozman alias GothamChess
In contrast, Dadang's Chess.com account Dewa_Kipas has eight followers and no title, though he has an ELO of 2,300. However, this belied his phenomenal rise in the apps since he joined Chess.com on February 12.
"The average [Chess.com] user would take a few months to raise their ELO from 800 to 1,200. My father raised his ELO from 800 to 2,300 in three weeks because of intensive game play." Dadang played 332 games on Chess.com, garnering 232 wins, 90 losses, and 10 ties.
Also read: Indonesia's Digital Economy Potential Hinges on Equal Internet Access
Ali viewed the blocking of his father's account as unacceptable, on grounds that it reflected bullying by a "major Chess.com account with many followers against a minor account." He added that Dadang started playing on Chess.com on his advice.
"As it turned out, [Dadang] was hooked [on Chess.com], particularly on Ranked Matches where he got to play against professionals, including Levy," said Ali.
Chess.com and GothamChess' responses
However, Chess.com denied that the blocking of the Dadang's account Dewa_Kipas was caused by reports from other players.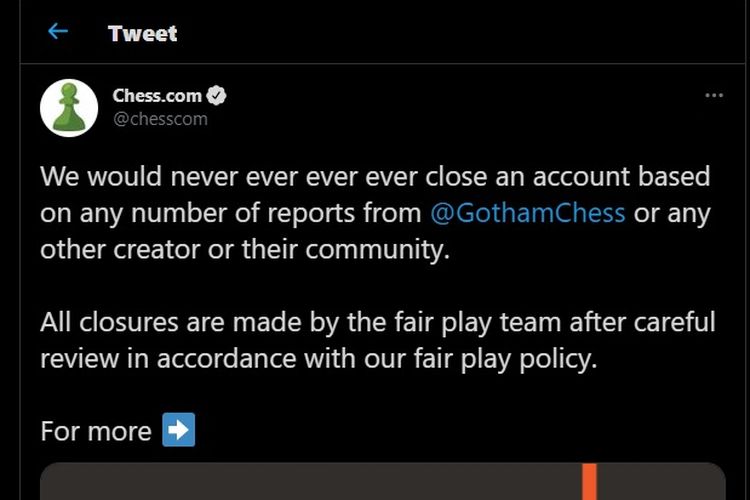 Screenshot of Chess.com's Twitter page explaining their decision to block Dadang Subur's (Dewa_Kipas) account
"We would never ever ever ever close an account based on any number of reports from @GothamChess or any other creator or their community. All closures are made by the fair play team after careful review in accordance with our fair play policy," Chess.com said on its Twitter account.
Ali asserted that he contacted Chess.com and Levy to follow up the blocking of his father's account. He added that both parties agreed to delete all posts related to the controversy as a first step.