JAKARTA, KOMPAS.com – The Corruption Eradication Commission or KPK has detained South Sulawesi governor Nurdin Abdullah for an undisclosed graft case, damaging his standing as anti-graft, clean public official.
Indonesian Health Minister Budi Gunadi Sadikin repeated his aim of vaccinating 38 million Indonesians by the end of next June, when the country's second vaccination drive ends. He highlighted the need to vaccinate the elderly, due to their frail physiques.
And Mount Merapi, Indonesia's most active volcano, was last seen spewing hot clouds of 1000 meters into the atmosphere. Read on for these news items in Indonesia Highlights: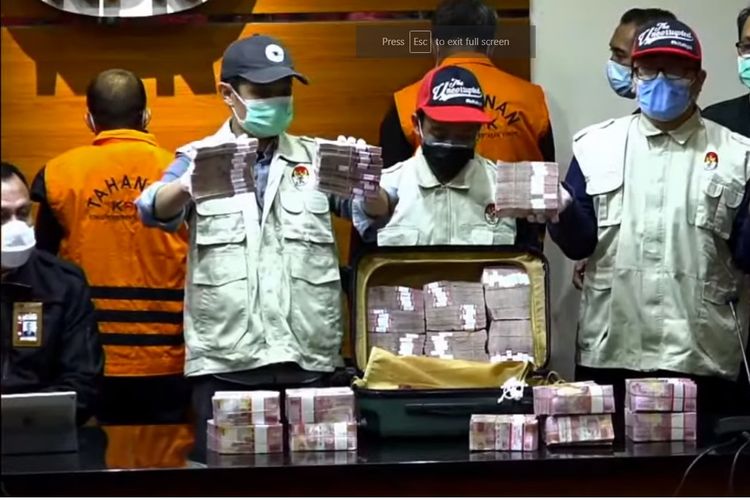 Screenshot of KPK investigators going through money used as evidence of kickbacks from South Sulawesi governor Nurdin Abdullah, Saturday (27/2/2021)
KPK Arrests South Sulawesi Governor Nurdin Abdullah
The Corruption Eradication Commission [KPK] has jailed South Sulawesi Governor Nurdin Abdullah in the early hours of Sunday, February 28, after investigators arrested him in a sting in the South Sulawesi provincial capital Makassar on Friday and brought him to Jakarta for questioning.
KPK chairman Firli Bahuri said Nurdin and his accomplices will be held at the KPK's holding cells at the Military Police headquarters in Guntur, Jakarta for 20 days, from February 27 to March 18. He added that the men will also undergo self-isolation in accordance with Covid-19 health protocols.
"We detained Nurdin, after we were able to prove that he accepted kickbacks in procuring an infrastructure project in South Sulawesi,"said Firli. "We also detained his accomplices Edy Rahmat, an official in charge of draining and clearing farmland, and contractor Agung Sucipto."
In all, the KPK questioned and arrested six people in the corruption case, which they have yet to disclose as "the investigation of the case is ongoing."
The case stained Nurdin's reputation as an antigraft official. He won the 2017 Bung Hatta Anti-Corruption Award for promoting good governance during his tenure in charge of the regency of Bantaeng.
The feat and his clean reputation carried Nurdin to victory in the 2018 gubernatorial race against disgraced former Football Association of Indonesia [PSSI] head and graft convict Nurdin Halid, whom he beat by 700 thousand votes or 1.86 million to 1.16 million votes.