JAKARTA, KOMPAS.com– Law and order dominates this segment of Indonesia Highlights, as the Indonesian National Police's Densus 88 counterterrorist police nab 12 suspected terrorists throughout East Java province.
The Presidential Security Force or Paspampres confirmed that it laid down the law on a group of motorcyclists who disregarded the unit's imposition of a high security area near the Presidential Palace to go on a Sunday ride.
And Indonesian authorities in the resort island of Bali recapture Russian Interpol fugitive Andrew Ayer, two weeks after he went back on the run after escaping an Immigration office holding cell. This and more on Indonesia Highlights: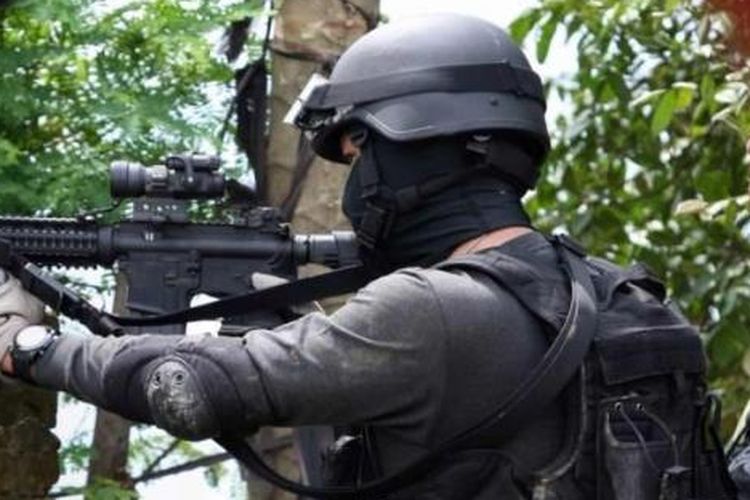 Densus 88 Counterterrorist Police Nab 12 Suspected Terrorists in East Java
The Indonesian National Police's Detachment 88 or Densus 88 counterterrorist unit has arrested 12 suspected terrorists in a series of raids throughout the Indonesian province of East Java on Friday, February 26.
The Antara state news agency said the men, who were identified as UBS alias F, TS, AS, AIH aka AP, BR, RBM, Y, F, ME, AYR, RAS, and MI were nabbed in the provincial capital Surabaya, as well as the cities of Malang, Mojokerto and Sidoarjo.
"The arrests were carried out in houses that were fronted as outlets selling prepaid cellphone cards. We suspect that the men have different roles." said National Police chief spokesman Inspector General Argo Yuwono.
"[Densus 88] also confiscated evidence, including bows and arrows, [katana swords], and other weapons." He declined to give any details, including the chronology of the arrests, pending an ongoing investigation by the counterterrorist unit and an official statement.
Densus 88 has arrested nearly 30 suspected militants in a series of stings in Aceh, Bangka Belitung, South Sulawesi, West Kalimantan and other provinces since the beginning of 2021.
Many of them are from the Jamaah Anshor Daulat and other outlets affiliated with the Jamaah Islamiyah terrorist organization. Others are suspected of ties with the Islamic Defenders Front or FPI, a hardline Islamic militant organization that was outlawed by the Indonesian government.
Source:
https://nasional.kompas.com/read/2021/02/26/22270861/densus-88-tangkap-12-terduga-teroris-di-jawa-timur.
Two sport motorcycles similar to those encountered by Paspampres presidential bodyguards
Presidential Bodyguard Cracks Down on Motorcycles
The Indonesian Presidential Security Force or Paspampres officially confirmed that its personnel has acted forcefully against a convoy of high-powered motorcycles, days after footage of the confrontation has gone viral on Instagram and other social media outlets.
"The Paspampres were forced to take measures against the sport motorcycles on Jalan [street] Veteran III, which is near the Presidential Palace complex," said Paspampres Assistant Intelligence Officer Lieutenant Colonel Wisnu Herlambang Friday of the incident, which occurred on Sunday, February 21.
He added that the Paspampres were securing Vice President Ma'ruf Amin's offices in the area, so the street was temporarily closed to the public as a 'first' or most secure ring designated for the President and Vice President.
"However, the convoys defied the restrictions and went ahead at high speeds and noisy mufflers, both of which are banned in 'first ring' areas," Wisnu added.
"One of our personnel kicked a motorcyclist to the ground, in line with our orders to take firm actions against anyone defying these measures. The motorcyclists should count themselves lucky, as the Paspampres are actually authorized to shoot them."
The confrontation occurred as the motorists were carrying out their 'Sunday Morning Ride' or Sunmori. One of the motorcyclists uploaded it on to Instagram, where it was viewed by more than 269 thousand people with mixed reactions.
Source:
https://megapolitan.kompas.com/read/2021/02/26/15412541/paspampres-pengendara-moge-dilumpuhkan-karena-menerobos-kawasan-ring-1?page=all#page2.
Bali Regional Police personnel introduce Andrew Ayer alias Andrei Kovalenko and his girlfriend Ekaterina Trubkina, shortly after their arrest in the Seminyak area
Authorities in Bali Rearrest Russian Interpol Fugitive

The Bali Regional Police has arrested Russian Interpol fugitive Andrew Ayer alia Andrei Kovalenko, nearly two weeks after he escaped from a holding cell at the Ngurah Rai Immigration offices in Denpasar on February 11.
"[Police and Immigration] officials arrested Ayer and his girlfriend Ekaterina Trubkina at a villa in the Seminyak area. He was arrested last Wednesday after he went on the run for 13 days," said Immigration Office head Eko Budianto.
"We secured potential exit routes from Bali to ensure Ayer cannot escape from the island. We also mobilized police and immigration from the Gianyar to Karangasem districts for a manhunt to search for him prior to his arrest."
Bali Regional Police spokesman Police Grand Commission Djuhandani Raharjo Puro reiterated Eko.
"We are holding Ayer as an Interpol fugitive for his involvement in narcotics. On the other hand, we are holding Trubkina for being his accomplice," he asserted.
Ayer escaped from Immigration custody after he was visited by Trubkina. Indonesian authorities were set to deport him to an undisclosed country, where he will be handed over to Interpol, when he went on the run.
Ayer served a 1.5 year jail sentence at Bali's infamous Kerobokan Penitentiary prior to his escapade.
Source:
https://regional.kompas.com/read/2021/02/24/15350051/13-hari-kabur-bersama-kekasih-pelarian-andrew-ayer-buronan-interpol-berakhir?page=all#page2
Dapatkan update berita pilihan dan breaking news setiap hari dari Kompas.com. Mari bergabung di Grup Telegram "Kompas.com News Update", caranya klik link https://t.me/kompascomupdate, kemudian join. Anda harus install aplikasi Telegram terlebih dulu di ponsel.