JAKARTA, KOMPAS.com – Floods overwhelmed Jakarta and displaced nearly 1400 people from their homes, following heavy rains brought on by extreme weather.
President Joko Widodo has warned that his goal to vaccinate 182 million Indonesians to gain herd immunity against the Covid-19 pandemic will not really take effect, until the government can stockpile substantial doses of the vaccine by the middle of the year.
And Indonesian Health Minister Budi Gunadi Sadikin assured that his Ministry is stepping up efforts to find samples of the new Covid-19 strain before it enters Indonesia. Read more on this and other articles, as curated by our editors: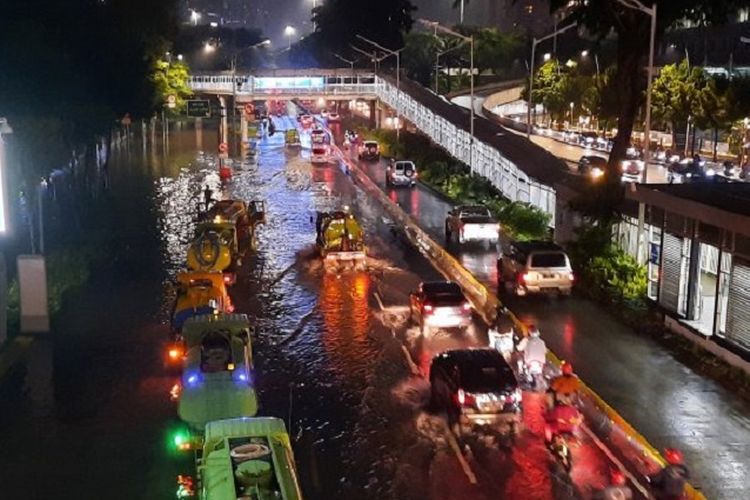 Traffic jam on Jakarta's Sudirman thoroughfare due to floods in Jakarta on Saturday night (20/2/2021)
Jakarta Floods Displace 1,380 People
Annual floods swept through Jakarta on Saturday, February 20, even as the capital and the rest of Indonesia continues to reel from the Covid-19 pandemic. The waters, which averaged from 40 to 150 centimeters, forced 1,380 people from their homes in 200 neighborhoods. No casualties were reported.
"The majority of the 1,380 displaced persons are from 379 households in East Jakarta Municipal district," said Regional Disaster Management Agency [BPBD] for Jakarta official Sabdo Kurnianto.
Sabdo highlighted the logistical needs of the displaced persons. "[BPBD] will need to provide [the displaced persons] with boats, food and drink, medical supplies, mattresses and blankets, as well as medical masks," he noted.
The Indonesian Red Cross [ PMI] also provided aid for the stricken areas. "We will install food kitchens in 26 areas," announced PMI Secretary-General Sudirman Said. "The food kitchens will provide 11,300 rice boxes and 18,500 loaves of bread."
Meteorology and Climatology Agency [ BMKG] head Dwikorita Karnawati urged the public to beware of extreme weather patterns. She warned that "the peak of the rainy season will last until early March."
Source:
https://go.kompas.com/read/2021/02/21/053337574/jakarta-floods-displace-1380-people?page=all#page2.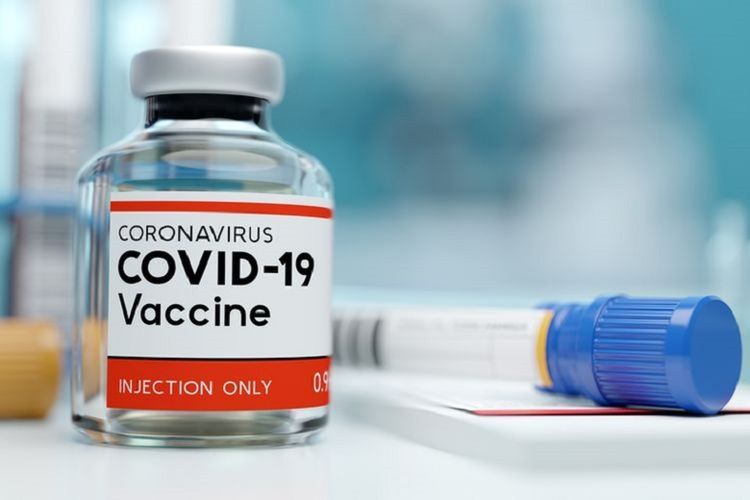 An example of a Covid-19 vaccine
Indonesian Covid-19 Vaccine Will Be Available in Large Numbers in Mid 2021
Indonesia will continue to stockpile Covid-19 vaccines throughout the year, in line with President Joko Widodo's aim to vaccinate up to 182 million Indonesians against the pandemic by 2022. But the head of state admitted that the goal proved challenging.
"Currently, the number of Covid-19 vaccines is in short supply. Hopefully the stockpiles for the vaccines will be sufficient by the middle of 2021, or by the second half of the year," said the president, who is also known as Jokowi, on Saturday, February 20.
"We hope to have at least 30-40 million doses of the vaccine by June or July." Jokowi also noted that the 30 thousand designated vaccinators from the Ministry of Health will be reinforced by 9 thousand vaccinators from the Indonesian Police and the military.