KOMPAS.com – The youth in Myanmar are adamant in their refusal to live under the military dictatorship as they have experienced progress toward democracy in recent years.
In an interview with VOA, the UN special rapporteur for Myanmar says the country's youth have "had a taste of freedom" and are not going to give up trying to reverse the military coup in their country.
"I'm really impressed with the young people," Tom Andrews told VOA on Wednesday, February 17.
He said many have learned about life under military rule from their parents and grandparents. But in the last five years, as the country has moved slowly toward democracy, they have experienced some degree of personal freedoms and do not want to return to a military dictatorship.
Also read: Protests Sweep Myanmar to Support Suu Kyi
"These are real young people who are sacrificing everything and risking everything to fight for their future," Andrews said.
Myanmar's military, the Tatmadaw, seized power on February 1, declaring a yearlong state of emergency and detaining de facto leader Aung San Suu Kyi and President U Win Myint, among others.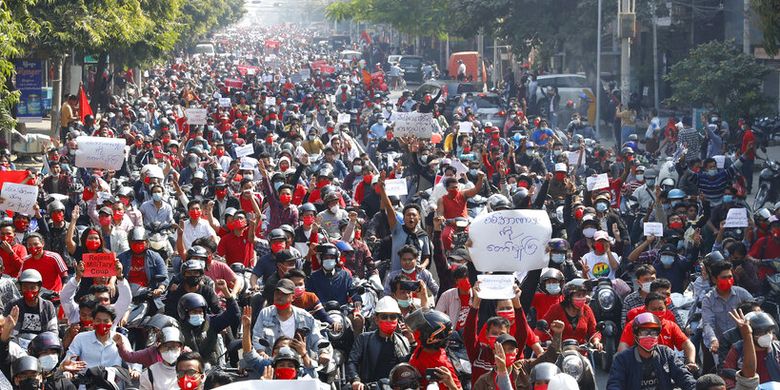 Protesters fill a street in Mandalay, Myanmar on Sunday, February 7, 2021. Tens of thousands of people rallied against the military takeover in Myanmar's biggest city on Yangon Sunday and demanded the release of Aung San Suu Kyi, whose elected government was toppled by the army that also imposed an internet blackout. (AP Photo)
The power grab took place following days of tension between the military and the ruling National League for Democracy (NLD), which won the November elections. The Tatmadaw has refused to accept the results, alleging massive election fraud.
Also read: US Imposes Sanctions on Military Leaders in Myanmar
Andrews, an independent human rights expert whose mandate comes from the UN Human Rights Council, urged the international business community this week to cut ties with Myanmar as long as the military is in charge.
"They [the generals] are very concerned about developing and building the economy, and of course they are, but that's precisely a source of leverage," Andrews said.
He noted that investors want stability, accountability, and rule of law, and without it, confidence is ruined.
"So, no matter if you look at it from a moral point of view, a legal point of view, or an economic point of view, this coup makes no sense," he said. "It is not in anyone's interest."
There were widespread concerns about police and security forces using excessive force on protesters Wednesday in Yangon, as they gathered following word that NLD leader Suu Kyi and Win Myint were being tried in a secretive trial.
FILE - In this Dec. 17, 2019, file photo, Myanmar's leader Aung San Suu Kyi speaks during a joint press conference with Vietnam's Prime Minister Nguyen Xuan Phuc after their meeting at the Presidential Palace in Naypyitaw, Myanmar. Reports says Monday, February 1, 2021 a military coup has taken place in Myanmar and Suu Kyi has been detained under house arrest. (AP Photo/Aung Shine Oo, File)
That violence did not materialize, but protesters blocked police and military vehicles heading into demonstrations, parking their vehicles in the middle of the road and raising their hoods because of "engine trouble."
Andrews, who raised the alarm this week about the potential "for violence on a greater scale" than has been since the coup, said he was "slightly relieved" it had not come to pass, but it remains a concern because "this military and these commanders are capable of just about anything."
He said that despite that danger, people are still willing to protest to show their commitment to getting the country back to the rule of law and the path of democracy.
"So, you have these two forces, if you will — this military, this coup — that is demanding absolute power and has shown that it's willing to do just about anything to keep it. And then you have this very, very strong, committed, large, diverse, broad-based opposition all over the country that are standing up for their freedoms and basic rights," the special rapporteur said.
He urged the international community to continue to speak up about Myanmar, to implement targeted economic sanctions and an arms embargo, and to support the protesters, who he said need to know they are not alone.
Dapatkan update berita pilihan dan breaking news setiap hari dari Kompas.com. Mari bergabung di Grup Telegram "Kompas.com News Update", caranya klik link https://t.me/kompascomupdate, kemudian join. Anda harus install aplikasi Telegram terlebih dulu di ponsel.