JAKARTA, KOMPAS.com – Indonesia has announced that it will export palm oil sludge or palm acid oil to Malaysia, as part of the steps that both countries are taking to safeguard commodity as their leading export.
Indonesian palm oil company PT Alam Duta Mandiri and their Malaysian counterpart Dendro Integrasi SDN Bhd signed the MoU on Tuesday.
The signing of the deal was witnessed by Indonesian Ministry of Trade official Kasan and Malaysian Ambassador to Indonesia Datuk Zainal Abidin Bakar.
Under the MoU, Alam Duta Mandiri will export two thousand tons of Indonesian palm oil sludge to Dendro Integrasi SDN Bhd every month for the next two years. Kasan, the Ministry of Trade's Director General for the Development of National Exports, hailed the agreement.
Also read: Indonesia and Malaysia Meet for First Summit Since Covid-19 Pandemic
"I hope that other Indonesian [palm oil] producers will follow [Alam Duta Mandiri] in meeting the demand for palm oil sludge in Malaysia, as well as other palm oil related products around the world," he said in a press release on Wednesday, February 17.
"Both companies can lead the way for [Indonesia and Malaysia] to raise the volume of the palm oil trade, promote the commodity on the global market and raise its profile, and tackle smear campaigns on the product."
Kasan noted that palm oil, including palm oil sludge, has played a significant role in the global economy over the past two decades by meeting the need for foodstuffs, oils and fats.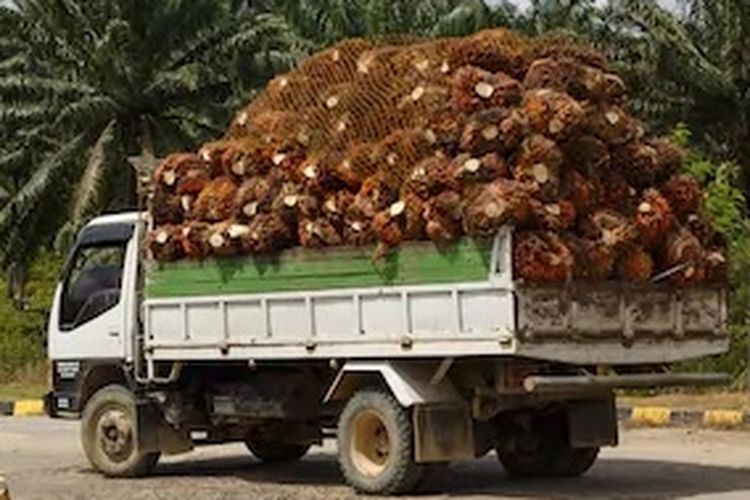 A truckload of palm oil
Also read: Indonesia Demands Equal Treatment from EU Over Palm Oil
"Palm oil sludge can be used in the energy industry, cosmetics and consumer goods such as soaps and shampoos. Palm oil is a viable source of alternative energy at a time when fossil fuels are becoming an increasingly finite source of energy."