JAKARTA, KOMPAS.com – The embattled Indonesian province of Papua is on the spotlight once again, as the Indonesian National Police disclosed financial irregularities in the province's annual budget that cost the state hundreds of millions of dollars.
The parents of the latest Indonesian soldier killed in firefights against insurgents in Papua's Intan Jaya regency issued a call to end the ongoing conflict, two days after his son was killed in action.
And Indonesia has allocated over 18 million Covid-19 vaccines, as the government prepares for the second mass vaccination drive this year.
Read on to find out more on these topics in Indonesia Highlights: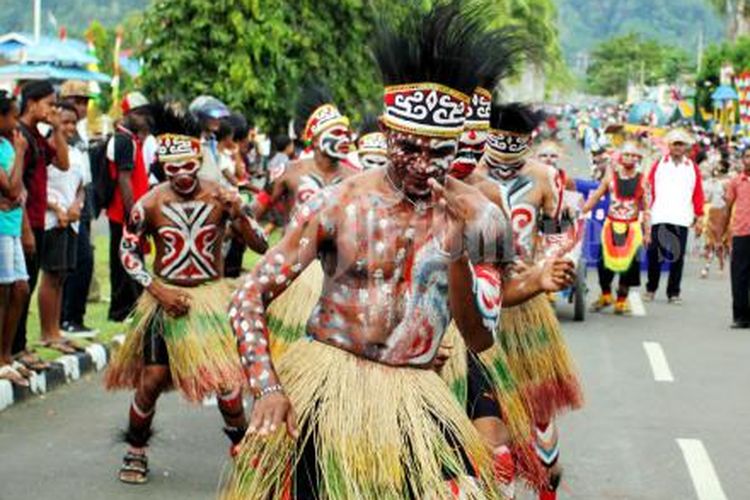 The Yospan dance, a traditional Papuan dance to welcome friends and allies
Indonesian National Police Find Financial Irregularities in Papua's Special Autonomy
The Indonesian National Police's Bureau of Intelligence and Security [Baintelkam] announced that it found financial irregularities in the annual budget for Papua province's special autonomy.
"The irregularities cost the state more than Rp. 1.8 trillion [$128,130,292.80]. Much of the embezzlement were mark ups for the procurement of energy sources," said Baintelkam head analyst Police Brigadier General Achmad Kartiko on Wednesday, February 17.
"Our investigations found wasteful procurements for manpower, electricity, and solar power. These include Rp. 9.67 billion [$690,025.09] in fictitious payments to build a hydroelectric power plant." He added that Baintelkam's findings were similar to the government's Audit Board [BPK].
"[Baintelkam] was tipped off about the irregularities from 45 civil society groups which rejected renewing Papua province's special autonomy, which was due to end [in 2021]," Achmad asserted.
"The funds for Papua's special autonomy was supposed to be used to resolve the ongoing conflict in the province, as well as improve the welfare of its people."