JAKARTA, KOMPAS.com – The embattled Indonesian province of Papua is on the spotlight once again, as the Indonesian National Police disclosed financial irregularities in the province's annual budget that cost the state hundreds of millions of dollars.
The parents of the latest Indonesian soldier killed in firefights against insurgents in Papua's Intan Jaya regency issued a call to end the ongoing conflict, two days after his son was killed in action.
And Indonesia has allocated over 18 million Covid-19 vaccines, as the government prepares for the second mass vaccination drive this year.
Read on to find out more on these topics in Indonesia Highlights: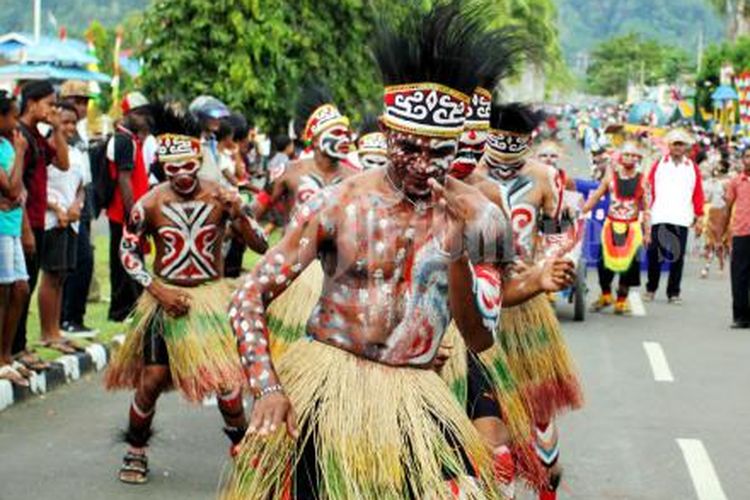 The Yospan dance, a traditional Papuan dance to welcome friends and allies
Indonesian National Police Find Financial Irregularities in Papua's Special Autonomy
The Indonesian National Police's Bureau of Intelligence and Security [Baintelkam] announced that it found financial irregularities in the annual budget for Papua province's special autonomy.
"The irregularities cost the state more than Rp. 1.8 trillion [$128,130,292.80]. Much of the embezzlement were mark ups for the procurement of energy sources," said Baintelkam head analyst Police Brigadier General Achmad Kartiko on Wednesday, February 17.
"Our investigations found wasteful procurements for manpower, electricity, and solar power. These include Rp. 9.67 billion [$690,025.09] in fictitious payments to build a hydroelectric power plant." He added that Baintelkam's findings were similar to the government's Audit Board [BPK].
"[Baintelkam] was tipped off about the irregularities from 45 civil society groups which rejected renewing Papua province's special autonomy, which was due to end [in 2021]," Achmad asserted.
"The funds for Papua's special autonomy was supposed to be used to resolve the ongoing conflict in the province, as well as improve the welfare of its people."
The government has sent a letter to the Indonesian parliament [DPR] to revise a number of articles on Papuan special autonomy to prevent misuse of the funds. Parliament heeded the government's plea by forming a special committee on Papua province's special autonomy.
The government has allocated more than Rp. 93 trillion [$6,634,787,400] for Papua province's special autonomy since 2002, as well as Rp. 33.94 trillion [$2,421,340,692] for West Papua province's special autonomy since 2009.
Source:
https://nasional.kompas.com/read/2021/02/18/03591631/baintelkam-polri-temukan-dugaan-penyelewengan-dana-otsus-papua-lebih-dari-rp.
The funeral of Private First Class Ginanjar Arianda in Banjar, West Java, Wednesday (17/2/2021)
Father of Indonesian Soldier KIA in Papua Urge End of Conflict
The father of Indonesian Army Private Ginanjar Arianda has spoken out against the ongoing conflict in Papua, two days after his son was killed in action fighting insurgents or so-called 'armed criminal groups' [KKB] in the province's Intan Jaya district last Monday.
"No other [Indonesian] soldiers should die in action in Papua. Let [the killing] end with my son," said Dede Nanda during the funeral for Private Ginanjar at his hometown of Banjar, West Java on Wednesday, February 17.
"The government should find a way to peacefully resolve the Papuan conflict. There have been enough deaths and killing in the province."
The army posthumously promoted Ginanjar to the rank of Private First Class following his death in action at the village of Mamba. He was serving with the Raider Task Force 400 at the time of his death.
Ginanjar was the seventh Indonesian serviceman to be killed in action in Intan Jaya since tensions flared in the area on December 2019.
Source:
https://regional.kompas.com/read/2021/02/17/22102601/cukup-anak-saya-yang-terakhir-jadi-korban-jangan-ada-tentara-tentara-lainnya?page=all#page2.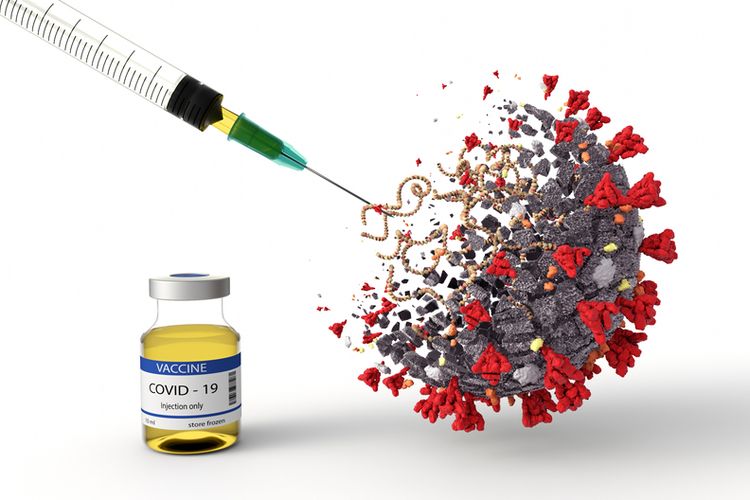 An illustration of Covid-19 vaccine.
Indonesia Readies 18 Million Covid-19 Vaccines for Second Mass Vaccination
The Indonesian Ministry of Health announced that it will distribute 18 million Covid-19 vaccines across Indonesia, as the government started the second stage of mass vaccinations throughout the country.
"[The Ministry of Health] will distribute 7.5 million doses of the vaccine to start the vaccination drive," said the Ministry's interim Director General for Disease Prevention and Control Maxi Rein Rondonuwu on Wednesday, February 17.
"This consignment will be followed by 11 million vaccine doses on the first week of March." Maxi added that "the supply includes the [Sinovac] Covid-19 vaccines manufactured by the Bio Farma Indonesian pharmaceutical company."
Maxi asserted that the Ministry will cooperate with the private sector to distribute the Covid-19 vaccines. "The private sector's cooperation is needed to ensure that the vaccines arrive at their destinations intact, in good quality at their respective decisions," he said.
Indonesia aims to vaccinate 38,513,446 people, namely 21.5 million elderly people and 16.9 million public servants in its second vaccine drive.
The groups prioritized in the country's current vaccine drive included market vendors, lecturers, and clerics. Other groups included legislators, government officials and journalists.
Source:
https://go.kompas.com/read/2021/02/18/040617874/indonesia-readies-18-million-covid-19-vaccines-for-second-mass-vaccination?page=all#page2.
Dapatkan update berita pilihan dan breaking news setiap hari dari Kompas.com. Mari bergabung di Grup Telegram "Kompas.com News Update", caranya klik link https://t.me/kompascomupdate, kemudian join. Anda harus install aplikasi Telegram terlebih dulu di ponsel.