KOMPAS.com – The youth in Myanmar are adamant in their refusal to live under the military dictatorship as they have experienced progress toward democracy in recent years.
In an interview with VOA, the UN special rapporteur for Myanmar says the country's youth have "had a taste of freedom" and are not going to give up trying to reverse the military coup in their country.
"I'm really impressed with the young people," Tom Andrews told VOA on Wednesday, February 17.
He said many have learned about life under military rule from their parents and grandparents. But in the last five years, as the country has moved slowly toward democracy, they have experienced some degree of personal freedoms and do not want to return to a military dictatorship.
Also read: Protests Sweep Myanmar to Support Suu Kyi
"These are real young people who are sacrificing everything and risking everything to fight for their future," Andrews said.
Myanmar's military, the Tatmadaw, seized power on February 1, declaring a yearlong state of emergency and detaining de facto leader Aung San Suu Kyi and President U Win Myint, among others.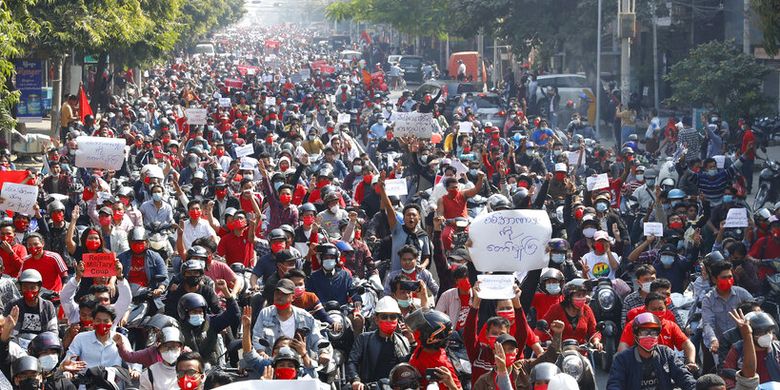 Protesters fill a street in Mandalay, Myanmar on Sunday, February 7, 2021. Tens of thousands of people rallied against the military takeover in Myanmar's biggest city on Yangon Sunday and demanded the release of Aung San Suu Kyi, whose elected government was toppled by the army that also imposed an internet blackout. (AP Photo)
The power grab took place following days of tension between the military and the ruling National League for Democracy (NLD), which won the November elections. The Tatmadaw has refused to accept the results, alleging massive election fraud.
Also read: US Imposes Sanctions on Military Leaders in Myanmar
Andrews, an independent human rights expert whose mandate comes from the UN Human Rights Council, urged the international business community this week to cut ties with Myanmar as long as the military is in charge.