JAKARTA, KOMPAS.com – Indonesian flag carrier Garuda Indonesia has decided to return 12 Bombardier CRJ 1000 jets that it rented from the Nordict Aviation Capital [NAC] leasing company, after the government found irregularities during their procurement in 2011.
"We suspect that Garuda Indonesia accepted kickbacks from [NAC] as they were procuring aircraft at the time," said Minister for State-Owned Enterprises [BUMN] Erick Thohir on Wednesday, February 10.
"Therefore we decided to return the jets and terminate our contract with NAC, which is scheduled to last until 2027."
The former Inter Milan and Philadelphia 76ers owner added Garuda is "negotiating the early payment settlement contract of six planes with the Export Development Canada [EDC] that is due in 2024."
Also read: Passenger Numbers on Garuda Indonesia Increase Towards End of 2020
Garuda Indonesia President-Director Irfan Setiaputra said the procurement of the CRJ1000 was costly for the airline. "We estimated that Garuda incurred annual losses of Rp. 420 billion [$30 million] from the planes because of their unsuitability for the Indonesian market," he noted.
"We estimate that Garuda can save more than $220 million in expenses that we would have incurred, if we used the CRJ1000 until the end of their contract in 2027." Irfan added that the need to save costs due to the Covid-19 pandemic prompted Garuda to stop using the planes.
On his part, Erick hopes that Garuda will be more discerning in the procurement of purchased or rented aircraft.
"The procurement of aircraft from [aircraft manufacturers] has to meet [Garuda's] needs, whether it be Airbus or Boeing. However, we cannot entirely depend on them or any one aircraft manufacturer" he asserted.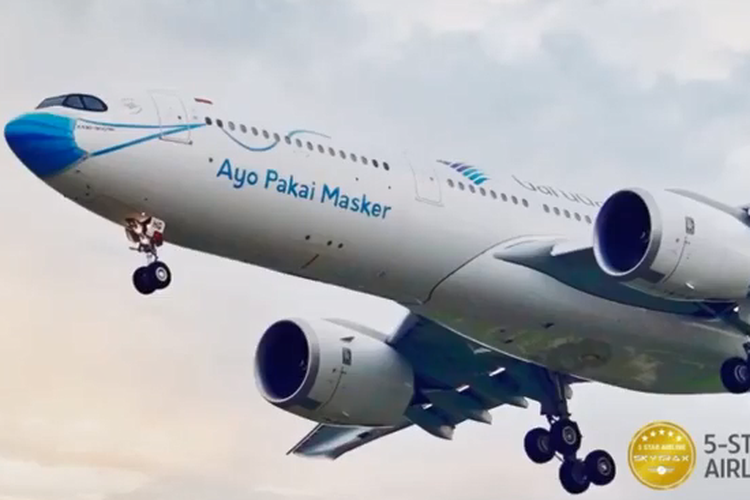 Garuda Indonesia airliner sports a face mask livery as it takes off (13/10/2020)
Also read: Garuda Indonesia Opens International Routes from Jakarta for December Holidays