KOMPAS.com - Train buffs missing out on the Orient Express after that legendary train company closed in 2009 need not despair, as they might just want to look to Jakarta's Gambir train station for a railway travel experience that is as posh as it is enlightening.
Held by Amanjiwo Inn hotels and KA Wisata, the tourist train subsidiary of Indonesian state owned train company PT. Kereta Api Indonesia [PT. KAI], the trip from Jakarta to Yogyakarta is as much a journey into the heartland of Java as it is a scenic, luxurious train journey.
"The trip is designed develop tourist travel by train to provide [customer] with a special travel experience," said President Director of KA Wisata Totok Suryono in a press statement on Friday, February 5.
The trip's exclusive, distinctive element can be seen in the departure times. The train departs from Gambir at 8 am every Thursday, and returns at 9.26 am from Yogyakarta's Tugu station on Sundays.
Travelers must also take a PCR test beforehand and bring a letter certifying the results.
Also read: Bali Tops TripAdvisor's 25 Best Global Destinations
"Tourists can also enjoy the thematic nuances of Amanjiwo in the KA Wisata carriage. An anthropologist will also be on hand to share Java's historic and cultural highlights that were seen on the trip," noted Amanjiwo General Manager Jann Hess.
Passengers will be served breakfast and lunch prepared by the Amanjiwo Hotel, as well as tea and champagne. Amanjiwo's resident anthropologist will also be on hand during the scenic trip to share historic and cultural highlights along the journey.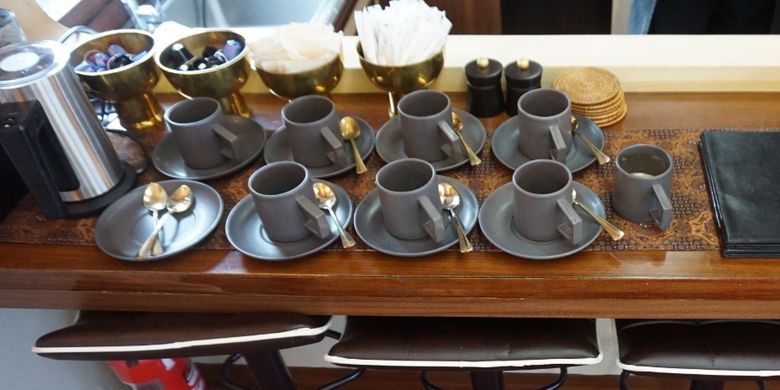 Coffee and tea cups and pots at Amanjiwo's Tourist Train
The trip ends at Yogyakarta's Tugu Station. From there, the passengers can get a complimentary transfer to the hotel.
Amanjiwo provides a choice of five package trips with prices ranging from 37 million rupiah to 121 million rupiah [$2,641.09 - $8,637.06], not including the government's 21 percent tax, for round trip train tickets for two per suite.