NUNUKAN, KOMPAS.com – The proboscis monkey might be one of Indonesian Borneo or Kalimantan's most iconic primates, as its big nose make it one of the area's most recognizable primate species.
The primates can be found in 16 national parks such as Danau Sentarum, Gunung Palung and Kutai in the provinces of West Kalimantan and East Kalimantan.
The province of North Kalimantan's Nunukan regency is the latest area for one to get up close and personal with the monkeys.
Known as BelagaOne, the two hectare facility in the eponymously named island of Nunukan set out to be an ecotourist destination that uses the ubiquitous, yet little known endangered monkey as its main draw.
Also read: Lemiwa: A Traditional Blessing from East Kalimantan, Indonesia
"Proboscis monkeys usually live in [Kalimantan's] jungle interior. But BelagaOne sought to raise awareness of this species, by letting them settle in a facility near human settlements," said Syafaruddin, the head of Nunukan's Tourism, Youth and Sports Services.
"The mangrove swamps that make up BelagaOne is an ideal habitat for proboscis monkeys and their long-tailed relative. "
Named by local youths after the portmanteau of the Indonesian term for 'behind the offices of Nunukan's Joint Services' and the number one, the primate's presence in the Rp. 1.6 billion [$114,080.96] facility reflected their plight.
"The proboscis monkeys are known to visit people's gardens to take coconuts, yams and other foods. We believe they ended up living near human habitations because of habitat loss," Syafaruddin lamented. His concerns are reflected in the statistics.
"The Nunukan Forestry Service has shown that Nunukan Island's Protected Forests [HLPN] currently has 1 thousand hectares of forest left, down from 2,850 hectares the year before. Much of that land was converted to palm oil plantations and illegal garden plots."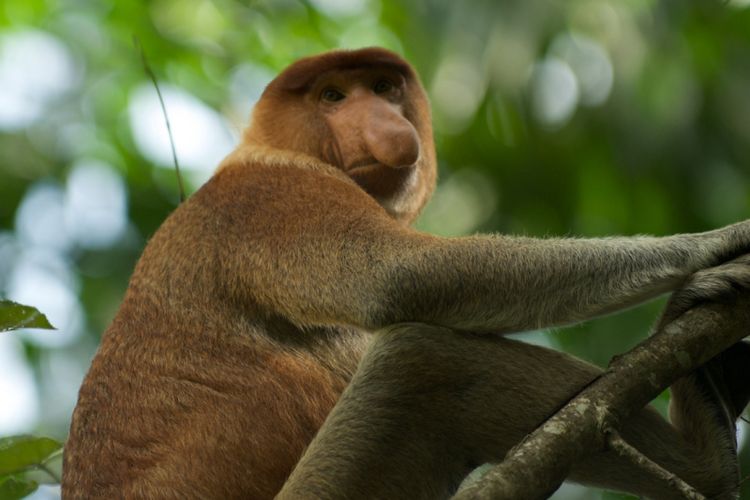 A proboscis monkey
Also read: Indonesian Man Forms Bond with Crocodile in East Kalimantan
Syafaruddin urged measures to keep the primates from clashing with humans over habitat and resources.
"We have requested the Nunukan regency administration allocate funds for the proboscis monkey's food and shelter. These are essential, as the proboscis monkeys are wild and potentially dangerous to humans," he noted.
"These measures' proper application can help the proboscis monkeys thrive and revive Nunukan's tourism industry, which has been hit hard by Covid-19."
But Syafaruddin is aware that the authorities have much work to do. "Proboscis monkeys experiencing habitat loss often seek food in human habitations. They also damaged cars and other vehicles," he noted.
"A number of travel communities also reported that poachers shot and hunted [proboscis monkeys] for human consumption, while others bore a grudge against the primates for damaging property."
Syafaruddin added that his office will continue to develop BelagaOne.
"I hope we can formalize BelagaOne as a tourist site by setting an entrance fee and building a 800 meter wooden bridge."
To date, there are more than 20 thousand proboscis monkeys in Borneo. The International Union for the Conservation of Nature or IUCN listed the proboscis monkey as an endangered species after their numbers were reduced by half over the past 40 years.
(Writer: Ahmad Zulfiqor, Nunukan Contributor | Editor : Kahfi Dirga Cahya)
Source:
https://travel.kompas.com/read/2021/01/26/102000127/wisata-mangrove-belagaone-nunukan-lindungi-bekantan-dari-kepunahan?page=all#page2.
Dapatkan update berita pilihan dan breaking news setiap hari dari Kompas.com. Mari bergabung di Grup Telegram "Kompas.com News Update", caranya klik link https://t.me/kompascomupdate, kemudian join. Anda harus install aplikasi Telegram terlebih dulu di ponsel.