SAMARINDA, KOMPAS.com – Fifty-six-year-old Ambo, resident of Guntung River Estuary, East Kalimantan, feeds Rizka with the same affection you'd see from someone doting on a fish, turtle or some other aquatic life kept as pets.
But a closer look shows that he is walking on the wild side; Rizka is a four-meter saltwater crocodile.
Long thought as the embodiment of nightmares in films like the "Crocodile Dundee" franchise and documentaries on Animal Planet or National Geographic, the reptile seemed more like Flipper the dolphin than a terrifying predator.
Rizka has been a fixture in Ambo's life for over two decades. "If I don't see her for two or three days, I would go looking for her," he says at his home on Sunday. "I treat her as my own child."
Also read: Rising Waters On Ijen Crater Kills Sulphur Miner
Beginnings of a beautiful friendship
"I first ran into Rizka when I was on a boat passing through the waters of the Pupuk Kaltim area 23 years ago," Ambo remembers. "She was then only about a meter long, so I ignored her as I made my way home."
"[But] I noticed that [Rizka] followed the vessel home. I even saw her next to the boat, which I also named Rizka," he says. "I called her over to give something to eat, and she came around. She has since been doing that."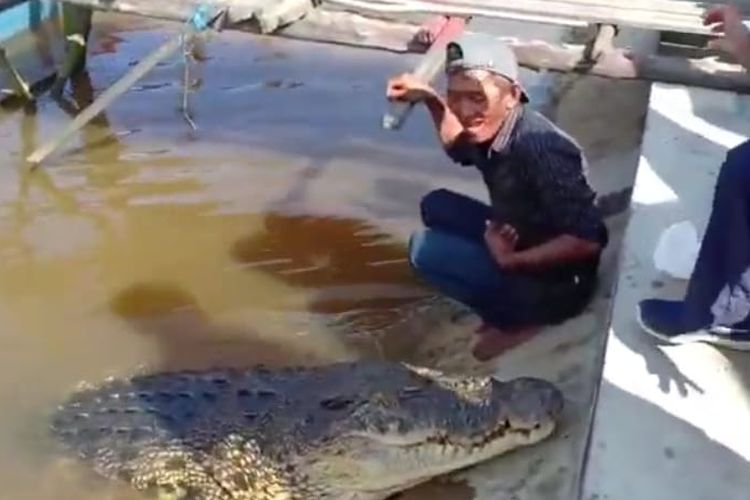 A fixture in the neighborhood
Rizka often comes around to Ambo's house when she's hungry. "I habitually give Rizka three chickens. Once she has been fed, she swims away," he says.
"When I leave the village, I've to tell my neighbors to feed Rizka while I'm gone. I had to get neighbors to look after Rizka after my wife told me once that the croc came around when I was away," says Ambo.
Also read: Who You Gonna Call When Someone Drowns? The Story of Grandpa Sukiro and Over 60 Drowning Victims
"This was how we got Rizka fed regularly when I had to go away for work [in the provincial capital Samarinda]. Local fishermen passing by also give her some of their catch."
Caring full-time for Rizka
Ambo decided to return after two years to devote his time for Rizka. He reminds locals wishing to feed the croc to treat her right so noone gets hurt. Since then, they come around daily to feed her.
Practising what he preaches has done Ambo wonders as Rizka has never attacked or bitten him.
"I love Rizka very much as I have cared for her since she was small," he says. "Sure the fear is there. But my ancestors believed that one can bond with crocodiles and other animals as if we have familial relations with them."
(Writer: Zakarias Demon Daton/Editor: Dheri Agriesta)
Source: https://regional.kompas.com/read/2020/06/14/20523811/kisah-pak-ambo-puluhan-tahun-pelihara-seekor-buaya-dianggap-anak-dan-diberi?page=all#page2.
Dapatkan update berita pilihan dan breaking news setiap hari dari Kompas.com. Mari bergabung di Grup Telegram "Kompas.com News Update", caranya klik link https://t.me/kompascomupdate, kemudian join. Anda harus install aplikasi Telegram terlebih dulu di ponsel.