JAKARTA, KOMPAS.com – Three Indonesian families who lost their loved ones on Sriwijaya Air Flight SJ182 have filed a lawsuit against US aircraft manufacturer Boeing, three weeks after a Boeing 737-500 airliner flown by the low-cost carrier crashed off Jakarta on January 9.
"We have filed the suit to the Cook County Circuit Court in the US state of Illinois, the location of Boeing's main offices as of January 25. The lawsuit is currently being processed," said lawyer Ernie Auliasari from the Wisner law firm on Friday, January 29.
She declined to identify her clients or their deceased relatives. "The three plaintiffs are seeking compensation [from Boeing] that is higher than the Rp. 1.25 billion [$89,098.25] offered by [Sriwijaya Air] and stipulated by the Jasa Raharja travel insurance company," Ernie noted.
Also read: Indonesia Highlights: Search Operations for Sriwijaya Air Flight SJ182 Have Been Closed: Indonesian Minister | Indonesia Seeks More US Investments Under Biden Presidency | Tornado Seen on Gajah Mungkur Dam in Indonesia's Central Java
"By Indonesian law, Sriwijaya and other [Indonesian] airlines are required to compensate the victims' families a flat rate of Rp. 1.25 billion, regardless whether the deceased is single or married, or even if they have three, five or more dependents," she pointed out.
"On the other hand, my clients can negotiate to get more indemnities from Boeing by adjusting it to the deceased's status, number of dependents, age, occupation and other factors. They also allege that malfunctions in the plane caused the crash."
Meanwhile, the Indonesian National Police's Disaster Victim Identification [DVI] have identified the three more people who died in the Sriwijaya Air Flight SJ182 disaster, including 54-year old Captain Afwan RZ, the pilot of the downed airline.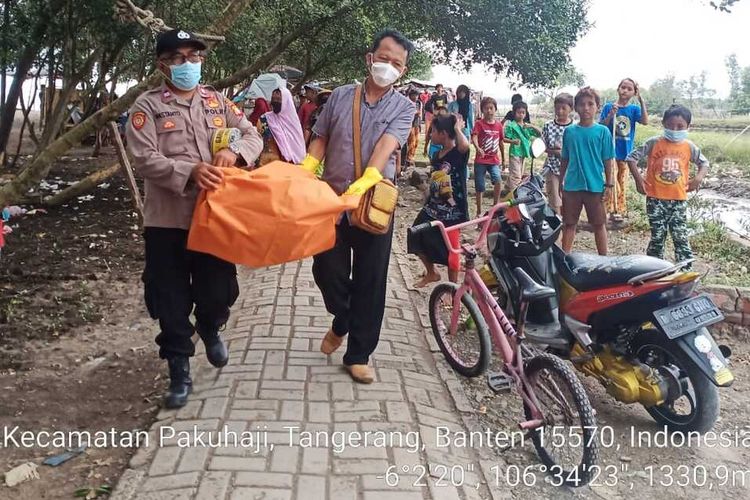 Indonesian security personnel in Tangerang, Banten evacuate remains of one of the victims of the Sriwijaya Air Flight SJ182 on Tuesday, (19/1/2021)
Also read: Indonesian Investigators Collect DNA of Those on Sriwijaya Air SJ 182
"We identified Captain Afwan's remains, along with 40-year old Suyanto and 32-year old Riyanto, by cross listing the deceased's DNA before and after their deaths," said Police spokesman Brigadier General Rusdi Hartono.
"This finding brings the list of dead in the disaster to 58 out of 62 passengers and crew on the plane. Like the other dead, their remains have been returned to their respective families."