KOMPAS.com – Like other Indonesian provinces such as West Sulawesi or South Kalimantan, West Java started off 2021 with natural disasters.
West Java Regional Disaster Mitigation Agency [BPBD] head Dani Ramdan highlighted the province's vulnerability to natural disasters.
He sounded the alarm, after landslides in Sumedang regency last Saturday killed 40 people, while flash floods at the Puncak tourist area in Bogor regency displaced more than 900 others.
"14 of West Java's 27 regencies or cities are at high risk of natural disasters, while the rest are at moderate risk," he said in a press release on Wednesday, 20 January. The BPBD's data showed that West Java was hit by 40 natural disasters between January 1 to January 18.
Also read: Jokowi Orders Immediate Response to South Kalimantan Floods
"The natural disasters included 16 landslides, 15 floods, and nine tornadoes. The phenomena left 40 people dead who were killed in the Sumedang landslide, and affected 92,858 others in the province."
Dani added that BPBD is drawing up a risk assessment to bolster public awareness of natural disasters down to the village level. The policy includes Disaster Mitigation Plans [RPB] from the city or regency to provincial levels.
"The RPBs will become the basis for contingency plans at the regency or city levels, depending on the type of disasters," he asserted.
"They include evacuation routes, places to evacuate or temporary shelters. If we can combine these with trained personnel and state-of the art equipment, then we are prepared to deal with disasters."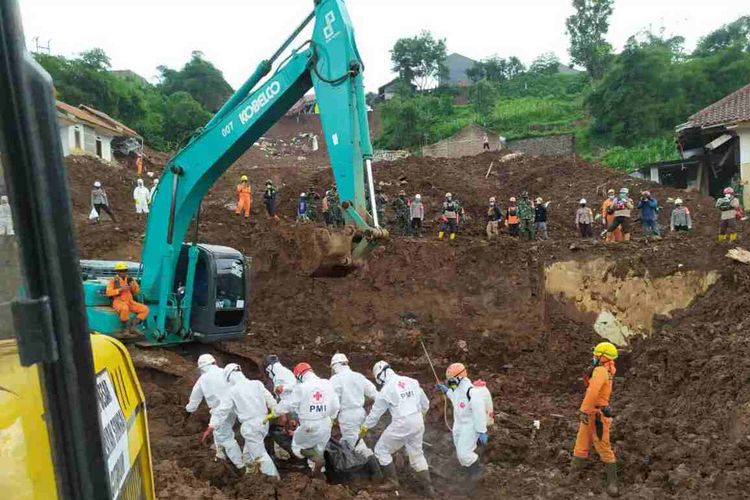 Joint Search and Rescue (SAR) teams evacuate the victims of the landslide that hit Sumedang, West Java, Sunday (17/1/2021)
Also read: Death Toll from Earthquake in West Sulawesi, Indonesia, Rises to 84