JAKARTA, KOMPAS.com – Indonesian President Joko 'Jokowi' Widodo has issued a presidential order to prevent and mitigate extremism at the community levels, a month after the government outlawed the Islamic Defenders Front in December 2020.
The order, which is known as the Presidential Order number 7 on 2021 on a National Plan to Prevent and Mitigate Extremist Based Violence Leading to Terrorism [RAN PE] for 2020-2024, was signed on January 6 and only recently disclosed to the public.
Among its aims are to "safeguard vulnerable communities from RAN PE."
"The step can be carried out in a number of ways, such as carrying out community policing to prevent extremism. The step is meant to be a partnership between the Indonesian National Police and the public, is designed to detect as well as identify security threats and stop them."
Also read: Indonesian Counterterrorism Police Kill 2 Militants in Raid on Terrorist Cell
The presidential order also called on the public to receive police training to prevent RAN PE before introducing community policing to civil society at large.
The community policing aspect of the Presidential Order stipulated that "the Indonesian National Police work closely with the National Counterterrorist Agency [BNPT], as well as ministries like the Ministry of Home Affairs, the Ministry of Social Affairs, as well as the Ministry of Religious Affairs."
Under the order, the government will sound out "model communities' nationwide that can serve as examples in preventing extremism by using a religious, cultural and economic-based approach, then aid those communities' efforts by upholding them as examples in the fight against extremism."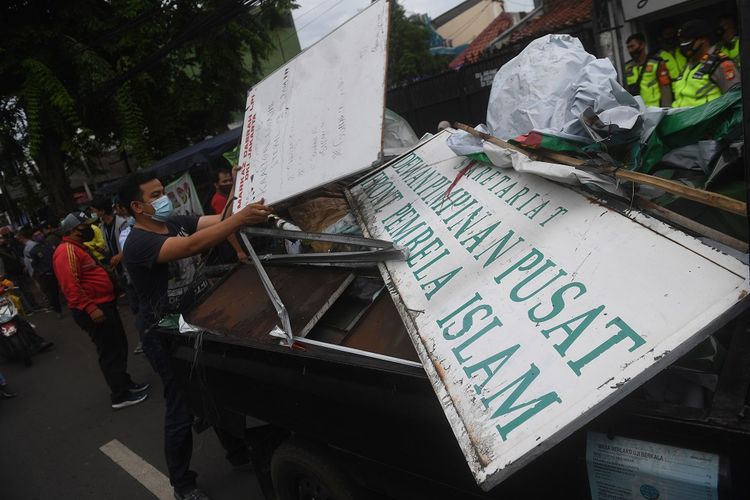 Police and military personnel dismantle Islamic Defenders Front (FPI) signposts in Petamburan, Central Jakarta on Wednesday (30/12/2020), after the government disbanded the group. ANTARA FOTO/Akbar Nugroho Gumay/nz
Also read: Indonesia Officially Disbands the FPI
Indonesia has been staving off religious conflicts for over the past 20 years, particularly following the fall of former strongman Suharto's New Order regime in 1998.