JAKARTA, KOMPAS.com – Indonesia continues to deal with ongoing and new challenges, among them the ongoing Covid-19 pandemic and natural disasters in the eastern part of the country.
Covid-19 continues to grip Indonesia despite the delivery of millions of vaccines to counteract the pandemic, as the country broke its one day record of cases with 14,224.
Meanwhile, the number of casualties from the 6.2 Richter scale earthquake in West Sulawesi province's Majene regency has risen to 46 deaths and 826 injured, a day after the quake struck the area on Friday, January 15.
And floods in South Kalimantan that occurred simultaneously with the West Sulawesi earthquakes left at least five dead and displaced hundreds of thousands of people from their homes. Read on to get the rest of these news, as curated by our editors: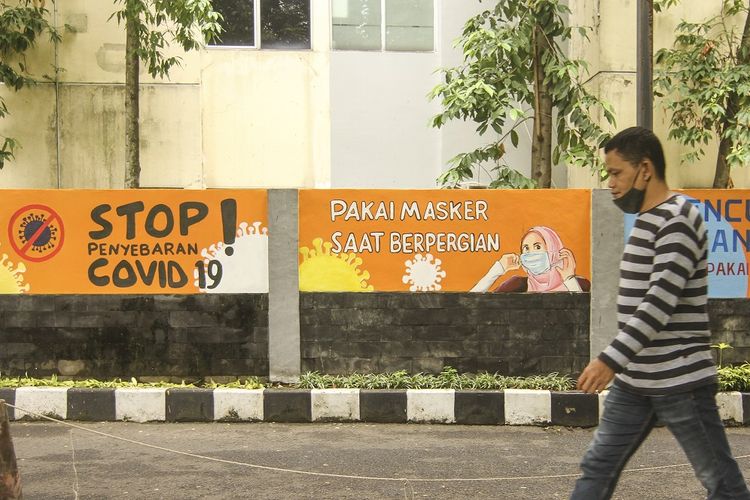 A passersby in Depok, West Java neglects to wear his mask as he walks past a Covid-19 themed mural urging the public to comply with health protocols urging their use on Wednesday, (6/1/2021). ANTARA FOTO/Asprilla Dwi Adha/aww.
Indonesia Sets New One Day Record of Covid-19 Cases With 14.224
The Covid-19 vaccines arriving to Indonesia amid much fanfare has yet to be the much touted game-changer against the coronavirus, as the country sets a new record for cases in one day with 14,224 on Saturday, January 16.
The Covid-19 Task Force announced that the stats brough the number of coronavirus cases closer to 900 thousand. "The number of cases brough the total number of people afflicted with Covid-19 to 896,642," the Task Force said in a press release.
"This number [of cases over one day] is the highest yet since Covid-19 was detected in Indonesia on March 2, 2020. It also broke the previous record of 12,818 set on Friday, January 15." These include 283 deaths, which brough the Covid-19 death toll up to 25,767 people.
On the other hand, the number of people recovering from coronavirus stands at 7,662, bringing the total number of recoveries to 727,358. The Covid-19 Task Force also suspected that there are 69,414 suspected Covid-29 cases in Indonesia.
The pandemic has spread to 510 regencies and cities in the country's 34 provinces.