JAKARTA, KOMPAS.com – Indonesian investigators are starting to make out the fates of the passengers and crew of Sriwijaya Air Flight SJ 182, nearly a week after the airliner went down in waters off Jakarta on January 9, 2021 en route to Pontianak, West Kalimantan.
"The Indonesian National Police Disaster Victims Identification Unit [DVI] have collected 140 DNA samples of the victims from their families," said police spokesman Brigadier General Rusdi Hartono on Friday, January 15.
"These include the 155 body bags that we collected since the disaster occurred."
The chief of the Police's DNA Laboratory, Police Chief Dr. Ratna, reiterated Rusdi. "We managed to identify five victims from Flight SJ 182, who ranged in age from 59-year old Toni Ismail to 15-year old Dinda Amelia," she noted.
Also read: Indonesian Investigators Retrieve Sriwijaya Air Flight SJ 182's Black Box
"The number brought the number of those confirmed to have died in the disaster to 17 people. Relatives of four victims have claimed their remains for burial."
National Search and Rescue Agency [Basarnas'] chief, retired Indonesian Air Force Marshal Bagus Puruhito announced that investigators "have recovered 272 bags from the crash site [on Friday, January 15], as well as 96 big and small pieces from the Boeing 737-500," he asserted.
"These include 33 bags of [the passengers and crews'] remains that we found today, as well as 23 bags containing the plane's parts. But we still have a long way to go, as we are still looking for the black box containing the Cockpit Voice Recorder or CVR."
If found, the CVR will be crosslisted with the Flight Data Recorder or FDR found by Indonesian Navy divers found earlier this week.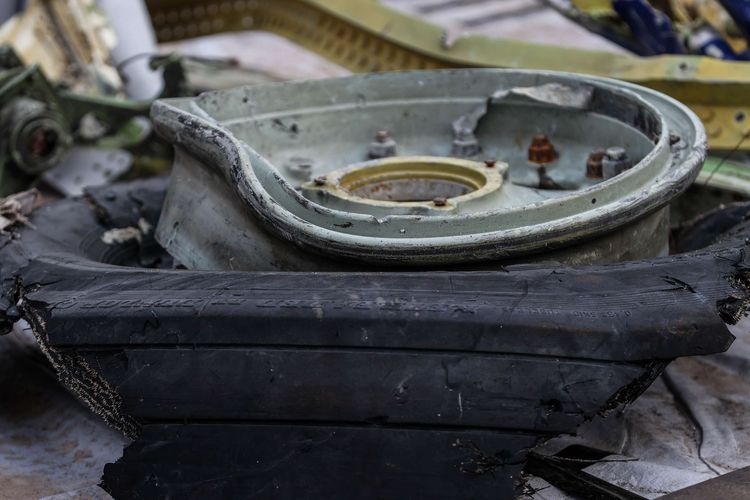 Plane parts retrieved by Basarnas from the downed Sriwijaya Air SJ 182 Boeing 737-500 displayed at Basarnas command post on Jakarta International Cargo Terminal on Thursday (14/1/2021)
Also read: Unmanned Underwater Vehicle Used in the Search for Sriwijaya Air Flight SJ 182