BANJARMASIN, KOMPAS.com – For most people today, feats of exploration are adventures recalled in documentaries or books. But this did not stop one man from the province of South Kalimantan from replicating their feats.
Identified by authorities as IR, the native of the city of Banjarmasin attempted an epic crossing on a bamboo raft through the Java Sea to Java on Saturday, January 9.
But if IR thought he his feat would get him the same adulation as Norwegian explorer Thor Heyerdahl following the latter's epic crossing of the Pacific Ocean on his raft Kon-Tiki in1947, he was dead wrong.
The only fanfare IR got on his voyage was the high-pitched sound of speedboat engines, as Water Police units in Banjarmasin used the vessels to end IR's attempts at immortality.
Also read: Fisherman Stumbles Upon WWII Bomb in Indonesia's South Kalimantan
"We received a tip from concerned locals who reported seeing a man on a bamboo raft getting swept away on the Martapura River," said Police Sub-Inspector 2nd Class Ronny. "When we caught up with IR, he was already on the river estuary heading to the Java Sea."
IR knew the game was up, as the Water Police took him into their custody. "IR admitted that he was attempting to cross to Yogyakarta. We suspected that he has mental issues," said Ronny.
"We contacted his family and urged them to keep IR from attempting similar trips in the future. Our investigations also revealed that the raft was stolen property which we managed to return to its proper owner."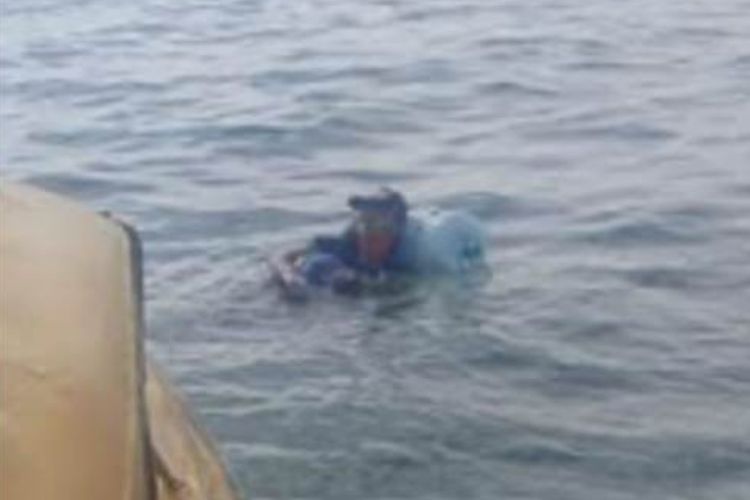 Dedik Purnomo floating in Balikpapan Bay, Wednesday (16/12/2020)
IR's stunt is the second of its kind in as many months. A 27-year old man identified as Dedik Purnomo attempted to cross the Java Sea from Samarinda, East Kalimantan to Malang, East Java on December 16, 2020.
"We found Dedik making his way through the waters of Balikpapan Bay with a makeshift catamaran of two plastic one-gallon bottles straddled with a wooden board," said Police Commissioner Attendant Retno Ariani.