JAKARTA, KOMPAS.com – Indonesian investigators piecing together the crash of Sriwijaya Air Flight SJ 182 last Saturday, January 9 have managed a breakthrough, as an Indonesian Navy Search and Rescue team managed to retrieve one of the airline's two black boxes.
According to Kompas TV's Breaking News segment, the team found the black box between the Laki and Lancang Islands of Jakarta's Thousand Islands regency at 4 pm on Tuesday, January 12, the vicinity where the Boeing 737-500 was estimated to crash.
A Sea Rider speedboat from the Indonesian Navy's 1st Fleet brought the black box to the Jakarta International Container Terminal 2 at the port of Tanjung Priok, where it will be investigated by the National Committee of Transportation Safety [KNKT].
Indonesian Armed Forces Commander Air Marshal Hadi Tjahjanto confirmed the retrieval of Flight SJ 182's black box. "The black box that was found contained [Sriwijaya Air Flight SJ 182's] Flight Data Recorder or FDR," he said in a press conference on Tuesday evening.
Also read: Unmanned Underwater Vehicle Used in the Search for Sriwijaya Air Flight SJ182
"Initially Indonesian Navy Chief of Staff Admiral Yudo Margono reported that the FDR was found at 2 pm, which proved to be misleading as it was only fragments of the FDR. So I told him to continue searching, leading us to eventually find the FDR."
Yet Hadi noted that the joint SAR teams still have work to do on Flight SJ 182, whose remains were found at a depth of 23 meters.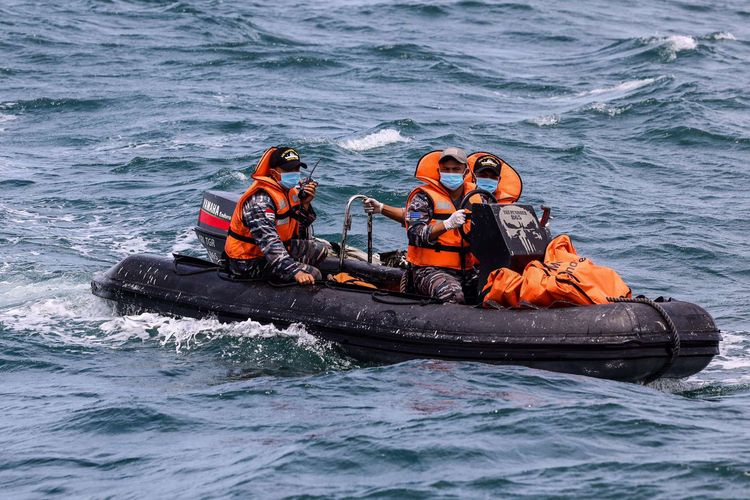 Indonesian Navy personnel take fragments from Sriwijaya Air Flight SJ 182 to the Indonesian Navy Ship KRI Tenggiri-865 in waters around the Thousand Islands, Tuesday (12/1/2021)
"The SAR teams still have to find the Cockpit Voice Recorder [CVR], which contained the pilots' conversation in the cockpit, in the second black box," he asserted. "Hopefully we will find the CVR soon, as we found its homing beacon."
Indonesia has mustered 3600 men from the National Search and Rescue Agency [Basarnas] and military personnel to search for Sriwijaya Air Flight SJ 182. The units included 54 naval ships, 13 planes and helicopters, as well as 40 jet skis and ambulances.
Also read: Indonesian Investigators Pinpoint Location of Sriwijaya Air Flight SJ 182
Foreign aviation experts from CFMI, a consortium between GE Aviation in the United States and French-based Safran Aircraft Engine are also in the country to assess the possible causes of the disaster, as they manufactured the engines of the 27-year old Boeing 737-500.
Sriwijaya Air Flight SJ 182 went down over the Thousand Islands with 62 passengers and crew on board, as it was heading from Jakarta to Pontianak, West Kalimantan.
Prior to finding the black box containing the FDR, investigators found fragments of the plane and human remains.
(Writers: Ira Gita Natalia Sembiring, Achmad Nasrudin Yahya | Editor : Bayu Galih)
Sources:
https://nasional.kompas.com/read/2021/01/12/16320831/kotak-hitam-sriwijaya-air-sj-182-ditemukan?page=all#page2.
https://nasional.kompas.com/read/2021/01/12/18155901/kronologi-penemuan-fdr-kotak-hitam-sriwijaya-air-sj-182?page=all#page2.
https://nasional.kompas.com/read/2021/01/12/17500981/panglima-tni-sebut-kotak-hitam-yang-ditemukan-fdr-cvr-masih-dicari.
Dapatkan update berita pilihan dan breaking news setiap hari dari Kompas.com. Mari bergabung di Grup Telegram "Kompas.com News Update", caranya klik link https://t.me/kompascomupdate, kemudian join. Anda harus install aplikasi Telegram terlebih dulu di ponsel.