JAKARTA, KOMPAS.com – Indonesian President Joko 'Jokowi' Widodo is set to lead the way for mass vaccinations in Indonesia, as he is scheduled to be vaccinated with a Covid-19 vaccine from Sinovac on Wednesday, January 13.
Presidential Secretariat Deputy for Protocol, Press and Media Bey Machmudin said his office is coordinating the occasion with the Ministry of Health.
"As the recipient of the first ever [Covid-19] vaccination [in Indonesia], the President's vaccination will be broadcast on live streaming so we can see how it is done," he asserted in a text message to Kompas.com on Tuesday, January 12.
Presidential Secretariat head Budi Hartono confirmed that Jokowi will be vaccinated with the Sinovac vaccine, along with Minister of Health Budi Gunadi Sadikin.
Also read: Mass Covid-19 Vaccination Must Be Done Less than 12 Months, Jokowi Tells

The officials' vaccinations comes after the Food and Drug Agency or BPOM officially issued the Emergency Use Authorization for the Sinovac vaccines, which are manufactured in collaboration with state owned Indonesian pharmaceutical company Biofarma.
Speaking in a press conference Monday, BPOM head Penny Lukito noted that the vaccines, which were dubbed the Coronavax, met safety and efficacy rates.
"Tests for the vaccine, which were carried out at Biofarma's facilities in Bandung, West Java, showed that it has an efficacy rate of 65.3 percent, exceeding the World Health Organization's [WHO] minimum efficacy rate of 50 percent," she said.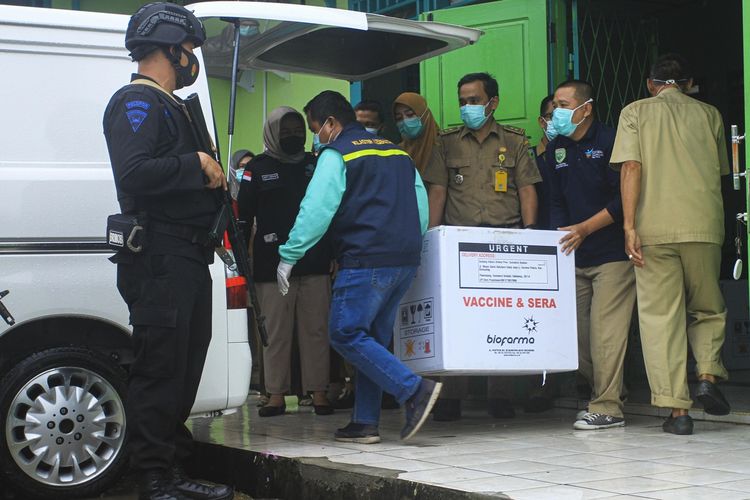 The Sinovac Covavax Covid-19 vaccine earmarked for South Sumatra Province arrives in Palembang, Tuesday (12/1/2021)
Also read: 15 Million Doses of Covid-19 Bulk Vaccine Arrive in Indonesia
"Reviews of the Coronavac results in Brazil and Turkey that we carried out along with the tests in Bandung showed promise despite mild side effects, as it can form antibodies and have a high immunogenicity, or the ability to kill or neutralize the virus."