JAKARTA, KOMPAS.com – In an effort to vaccinate about 182 million or 70 percent of Indonesia's population, the government is currently in discussion with Pfizer to finalize the purchase of the Covid-19 vaccine, a top health official said on Tuesday, January 12.
"We are finalizing the process of buying the vaccine from Pfizer," Health Minister Budi Gunadi Sadikin said in a meeting with House Commission IX overseeing health care, manpower, and transmigration.
Meanwhile, it has been confirmed that Indonesia will get 125.5 million doses of Covid-19 vaccine from China's Sinovac, and 50 million doses from Novavax and AstraZeneca, respectively.
Also read: 15 Million Doses of Covid-19 Bulk Vaccine Arrive in Indonesia
Indonesia has also submitted its request form to gain access to at least 54 million doses of vaccine from the Gavi-coordinated Covid-19 Vaccine Global Access (Covax) facility, a mechanism to guarantee rapid, fair, and equitable access to Covid-19 vaccines across the countries.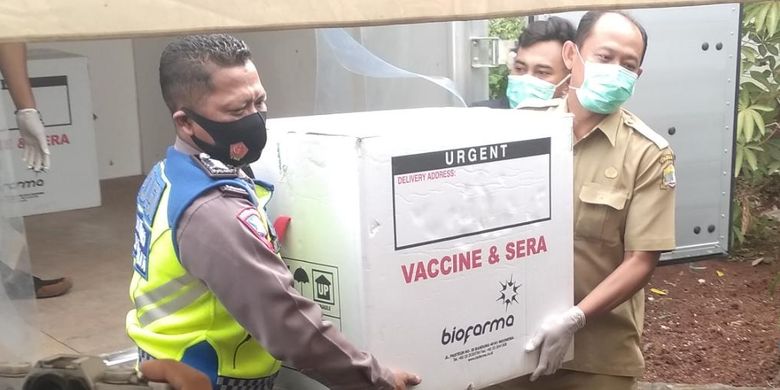 Indonesian officials are carrying a box of Covid-19 vaccine that will be distributed to Serang in Banten Province.
So far Indonesia has signed contracts with several institutions to secure nearly 330 million doses of the Covid-19 vaccine. The government has set a target of vaccinating 181.5 million people. To do so, Indonesia needs about 426.8 million doses of vaccine.
Budi said to avoid vaccine shortage, the government continued to communicate with the Gavi Covax facility to get up to 108 million doses of the Covid-19 vaccine.
"As of now, we have secured 54 million doses of vaccine from Gavi Covax facility. However, two days ago during our discussion, they were likely to increase the quantity up to 108 million doses of vaccine," he said.
Also read: Indonesia Signs Request Form to Access Up To 108 Million Doses of Free Covid-19 Vaccine
Based on the existing contracts and options, Budi said the government could get about 663 million doses of the Covid-19 vaccine.